I've always been one that loves the change in seasons here in England, there's something about a crisp, sunny Autumnal morning that I really love and it always leads to a change in the way I go about my fishing. Ditching the surface gear and concentrating on putting a bed of bait down and trying to tempt a few decent fish before winter sets in, Novermber 2017 was one of those months where everything went my way. With frost most nights and bright days, the fish just seemed to love it and I was only managing one day a week at the time, or an extra half day if I was lucky.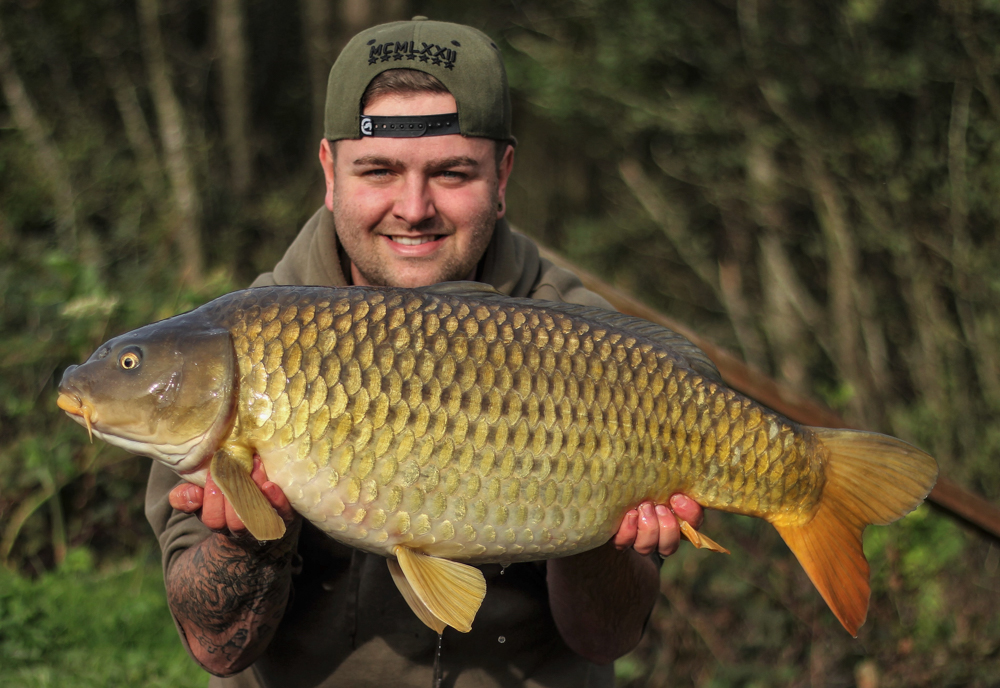 My first fish was this lovely 25lb common.
I remember my first session well, it was November 1st and I was fishing on prairie lake on the Elphicks complex in Kent, the first time I had ever fished this lake so I spent the first half of the day flicking solid bags about trying to nick a bite – a method that has done me well on other lakes on the complex, but by mid day I had nothing to show and I felt a change was in order. I decided to make a spod mix of hemp, corn and maggot with some wicked white bollie crumb, positioning both my rods tight together at the bottom of the island shelf. As it was a two rod limit at the time I put in 12 large spods on the spot fishing wafters, topped with maggots or maggots on a medusa style rig over the top. Within half an hour I managed my first take, a 25lb common. I then went on to land four more twenties that afternoon including a 27lb and a 29lb+ and loosing a couple.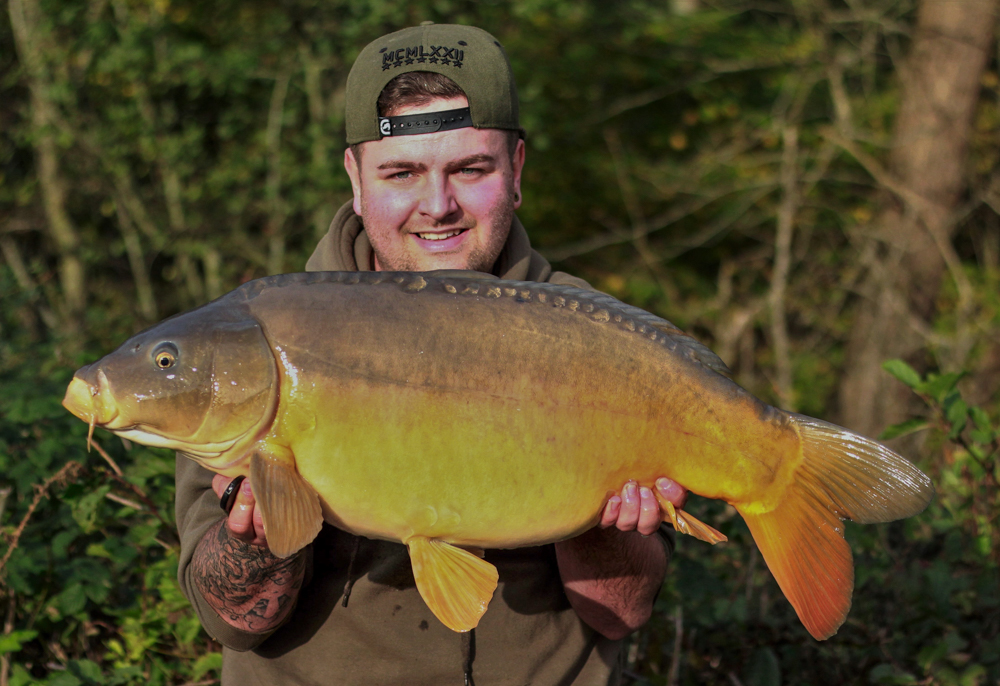 I also banked this 27lb mirror...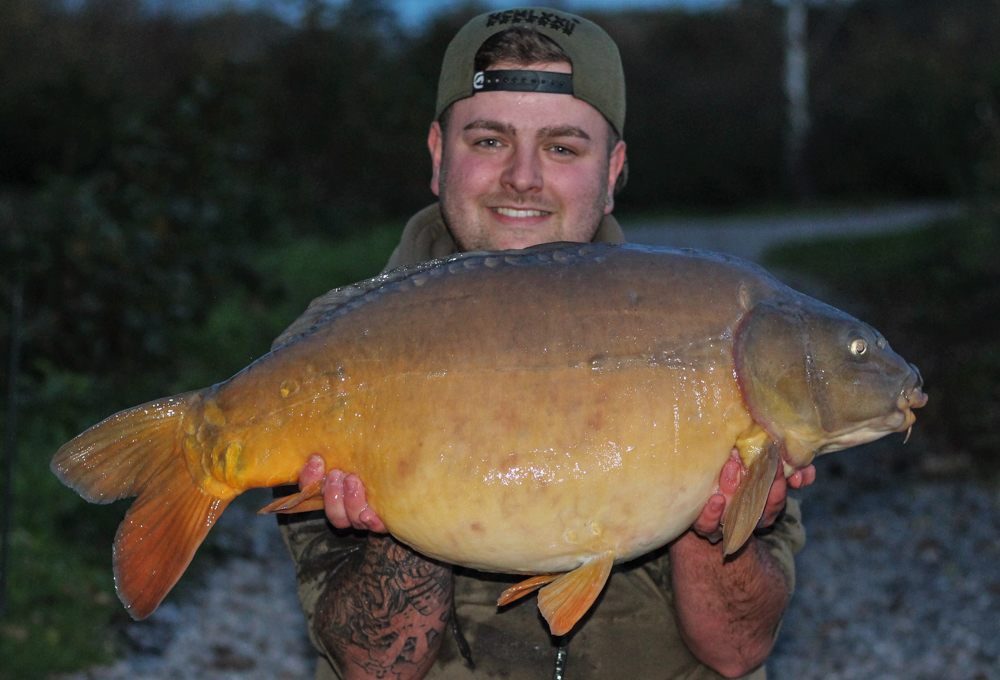 ... And this cracking 29 pounder on my first day session – what a reult!
From that day on every session I fished there I fished the same method, hemp, maggot, corn and bollie crumb getting through 3-5kg of hemp, a kilo of corn, gallon of maggot and a few kilos of boillie on every trip, running out of bait nearly every time I went – I simply couldn't put enough out!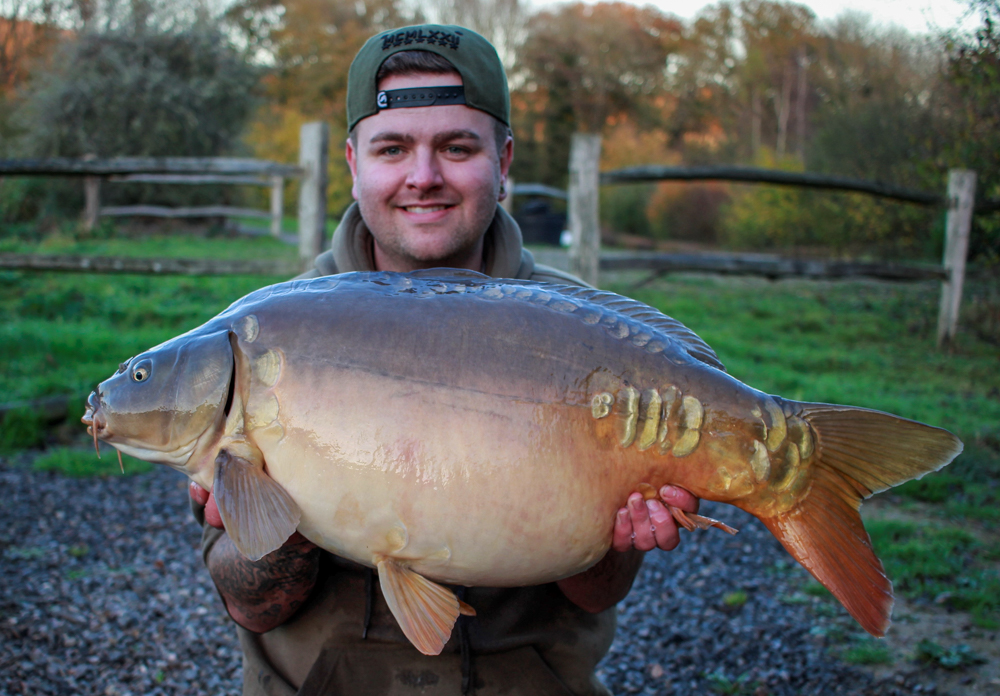 This 30lb 10oz mirror was one of two thirties on my second session.
On my second trip there. armed with the knowledge I had gained from the first trip, turned out to be one of the best that month. In a cold frost that morning I wasted no time in putting 20 large spods out in a different swim to the first trip, but still at the bottom of the island shelf. It resulted in two thirties, six twenties and a double figure carp too. I ran out of rigs, bait and struggled to keep my rods in the water, 30lb 10oz and 31lb 8oz mirrors being the biggest of the day in just 9 hours of fishing…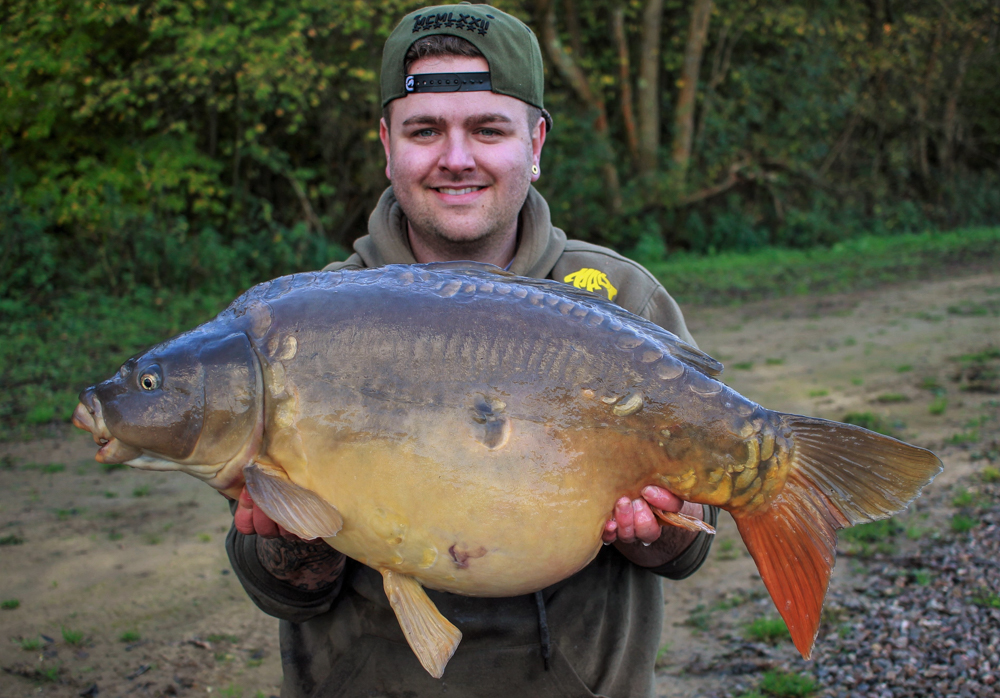 And this colossal 31lb 8oz mirror was the largest of the 9-fish-hit.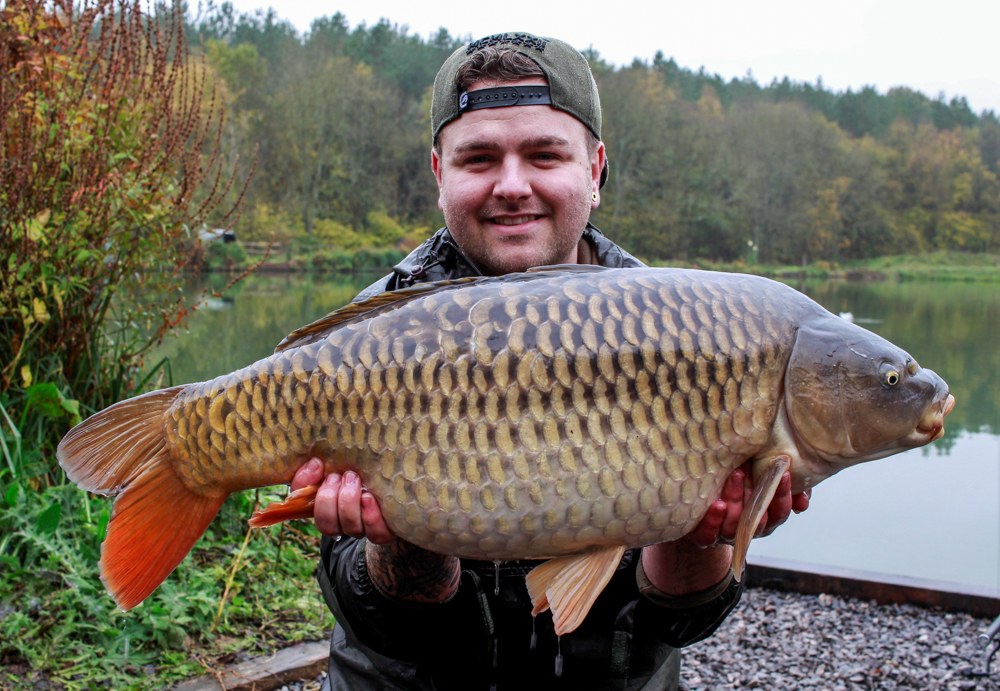 A 25lb common on my third session.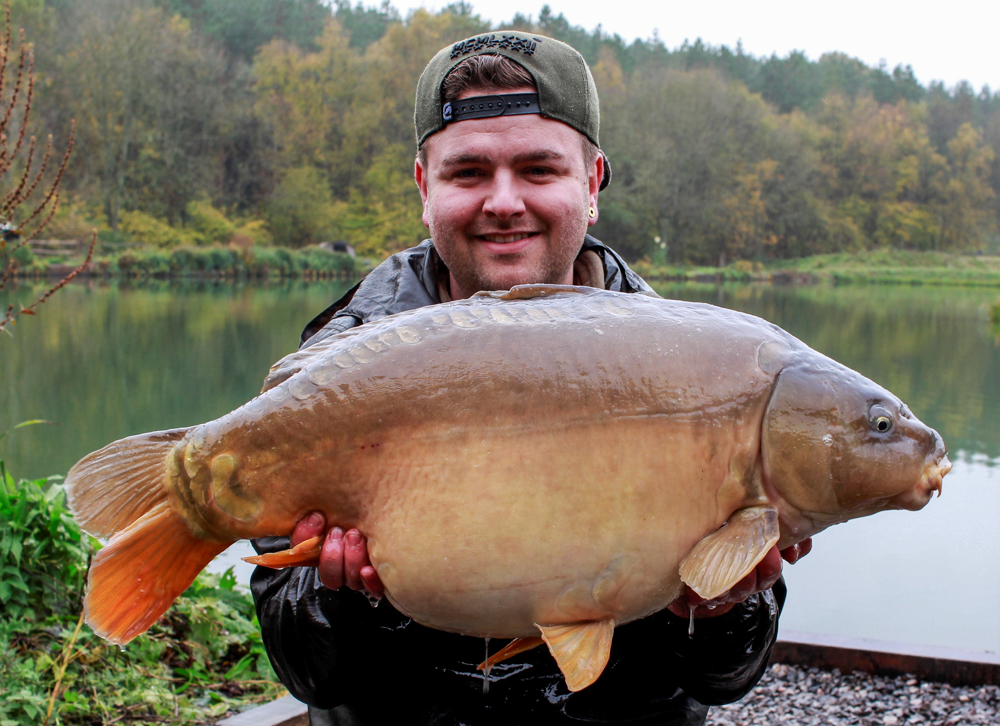 A 30lb and ounces mirror from my third day session.
The theme continued on my third day session, again another big hit landing a scraper thirty mirror and six twenties including some mega looking commons. I remember spodding over my rods that day and about seven spods in, just as my spod hit the waters surface I had a double take instantly with both rods melting off, my spod still laying on the surface, it was complete carnage.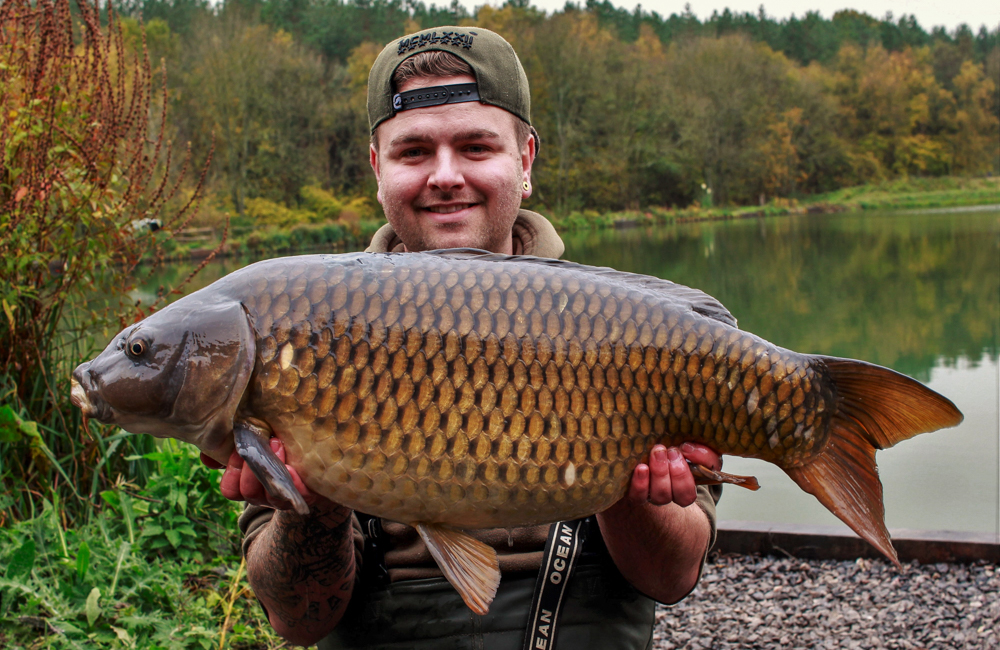 Another cracking common from my third trip, this one weighing 26lb.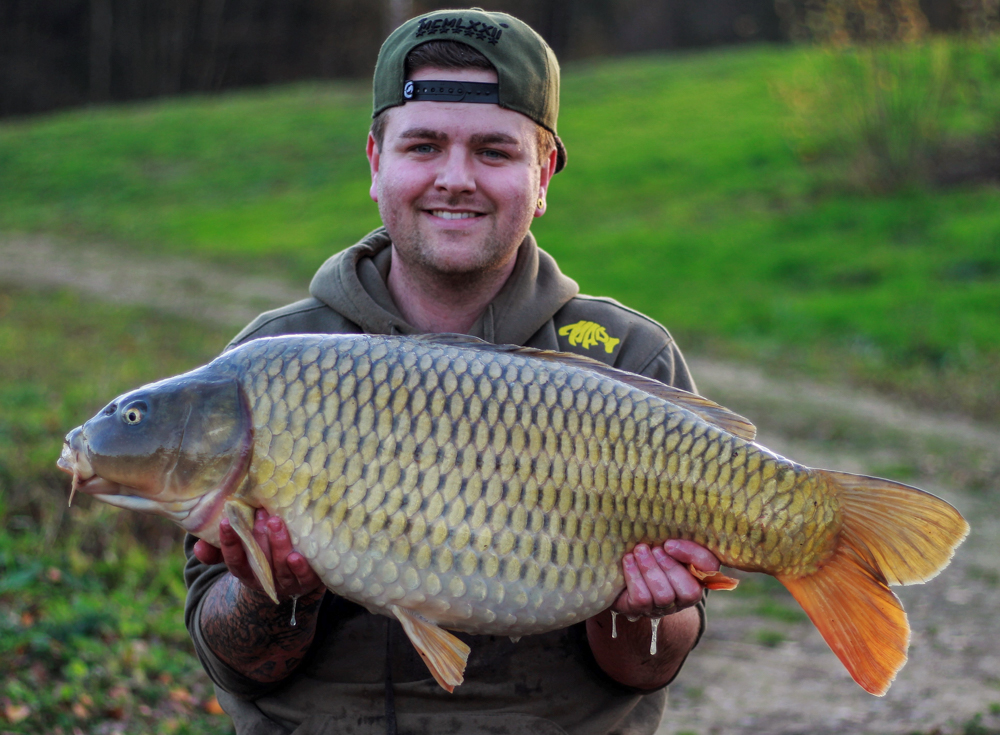 A hard-fighting 26lb ghosty from the heavily baited spot, the pick of the bunch from my fourth day session.
I managed another day session and a half day after this, each resulting in a handful of more 20lb fish topped by a 26lb ghost common, again all on a heavily baited spot.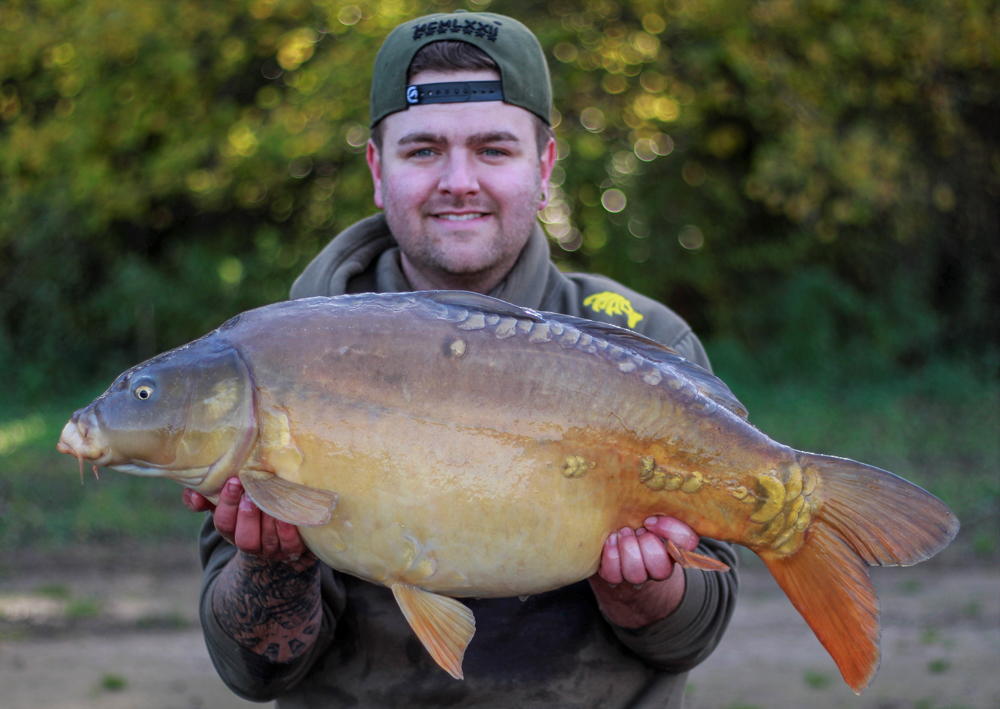 My second fish of the last session, the first part of a double take, a 25lb mirror.
My last day session of November was to be a quieter one, landing nothing by midday, but I kept the bait going in accurately and consistently and finally my first bite came in the shape of a 21lb mirror. I then had a double take, a mirror of 25lb and a mega battle that was to be a new pb at the time, a gorgeous 29lb 2oz common. I ended a few hours later with a long 28lb common and felt I had really hit the right lake at the right time that month. Over my time I caught considerably more than many of the anglers on the days I was fishing, but I was putting in far more bait keeping the rods tight and the bait accurate was definitely key.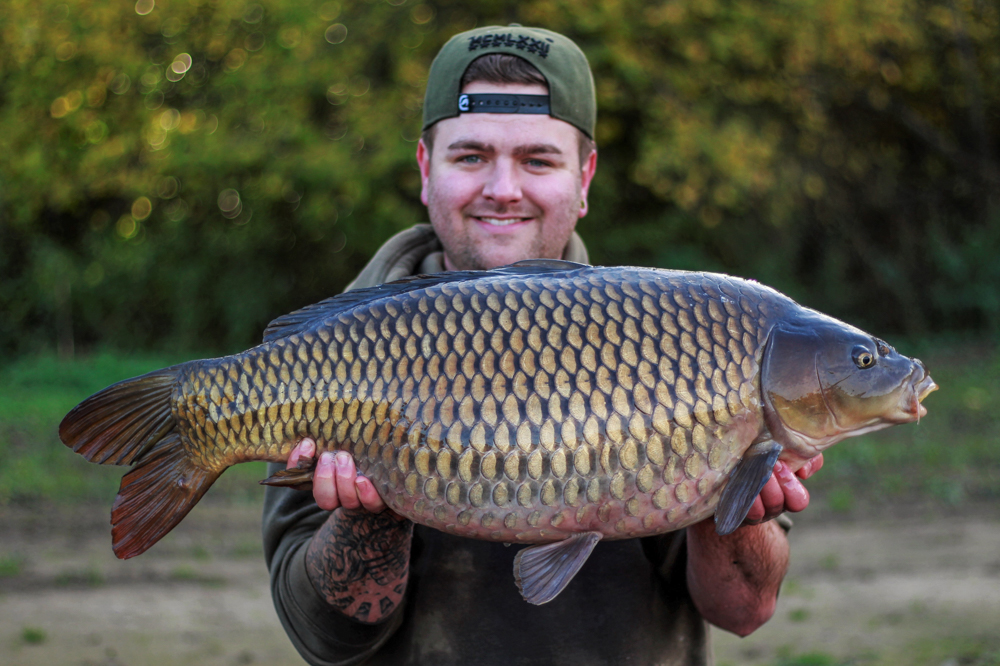 The second part of the double take, and a new pb at the time, this 29lb common.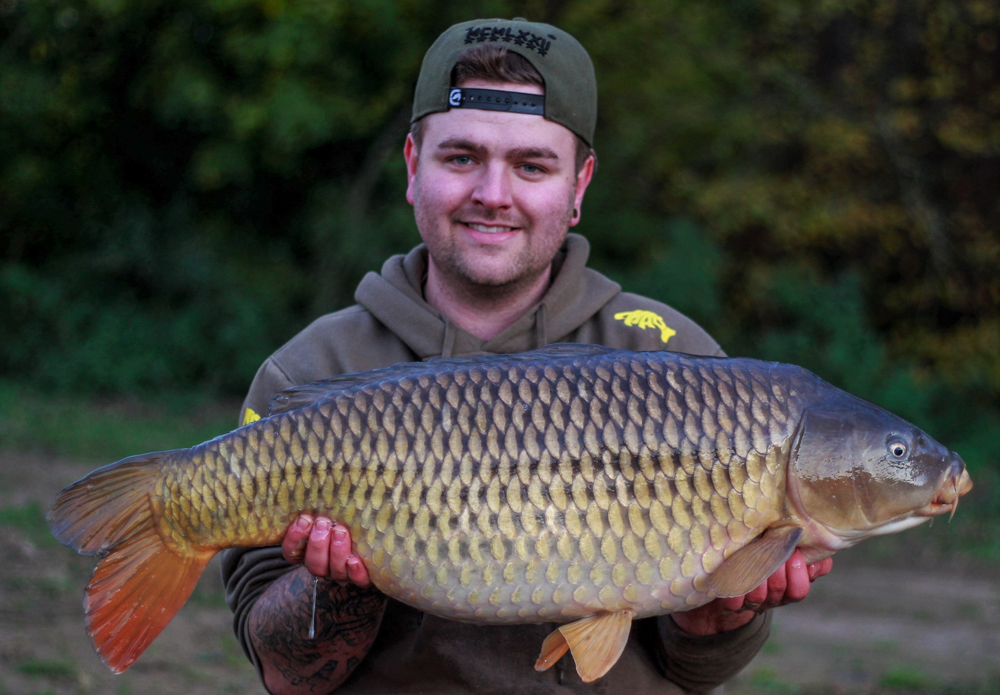 I finished that last session with a 28lb common, what a months fishing I'd had!
It was very strange to only see three or four fish show all month and never on my bait, but they were really on the feed and liners would be plentiful when they were on the spots. My final tally over five and a half day sessions was 26 twenties, three thirties and a double. It's one of the only times in my angling where I knew 100 percent I was going to catch a lot of decent fish every time I went, and something I'm not sure if I'll encounter again – fond memories indeed.
Comments