The first few weeks of the traditional season had flashed by as it always seems to when you are having fun, and before I knew it my summer break was fast approaching; I'd be having my daughter for half of the school holidays as I do every summer. Believe it or not and despite offers to go elsewhere she wanted to go on a fishing adventure, what a touch. Of course this meant lots of planning, at the last minute, as usual...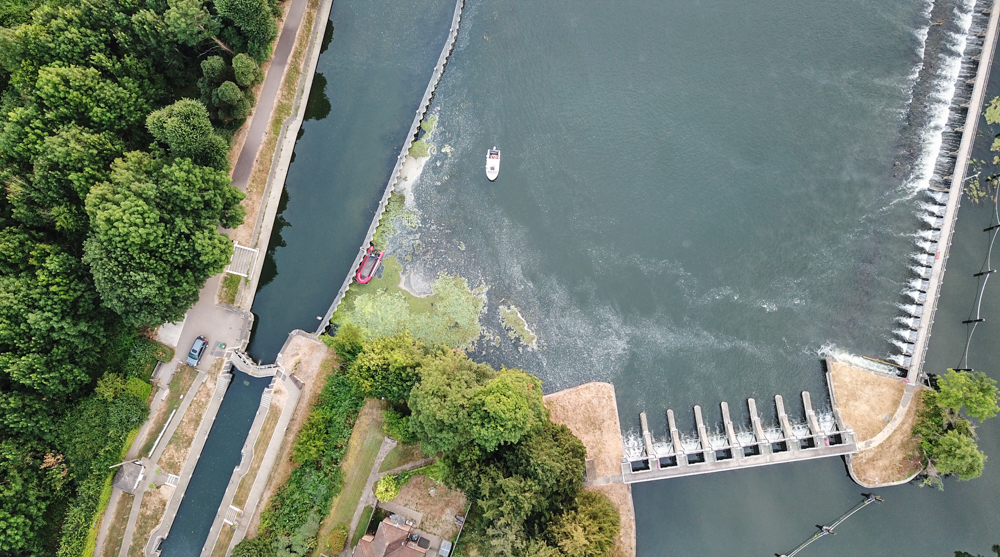 Lovely times.
I had to book a tunnel first off, order some Manilla boilies from Sticky for the trip and go online and order a sack or two of particles, then there's the Euro's to get, the ton of summer holiday stuff I needed to order off eBay... the list was all of a sudden a mile long and suddenly pressing.
Typically, I was just getting into the flow of boat fishing as it were and now it would be a month at least before I was afloat on the river once more. Conditions however were not great to put it mildly on the Thames with daily temperatures into the 30's, low river conditions and poor flow leading to an algae bloom, I'd not be missing much, and besides Cassien beckoned which wouldn't be too awful now would it. I'd got used to the hot weather on the river, I could always find some cooler shady spots to spend the hottest part of the day to make it bearable so each week I made the effort regardless as I was really enjoying just being afloat and exploring, fish are always a bonus.
The rural spot that had done me a few bites seemed to dry up quickly, a little too quickly considering the amount of bait it had received, I could hazard a guess why. Half of the fish I'd caught showed signs of fresh damage to their tails and I was convinced that an otter was the likely culprit and not damage bought about by their recent spawning. Of course by baiting heavily all I was doing was concentrating fish in a tight area which would likely localise any predators too, and the longer it went on the more likely that would be. I wasn't just catching carp but also lots of chub and a few bream. Some of the chub were really big specimens, not all but the bigger ones were far bigger than any I've caught before by design. I guess the biggest were easily in excess of 7lb despite being empty and maybe even bigger. The smallest a pound or so, and everything in between.
I was also seeing lots of silver fish in the area and at dusk bigger roach were rolling, the river was alive and it was heartening to see the fish stocks looking so healthy but this was tempered by the thought that otters were also around and that things wouldn't stay this way for long. It's a strange feeling fishing somewhere with otters present, because you know what's around the corner but you just hope you're wrong, in denial. Now I'm not going to get too political about the otter, after all he's just doing what he does. Unfortunately, anglers are their own worst enemies and just stick their heads in the sand until they are faced with the devastation they can wreak. Getting a boat was after all a decision I'd made which was based on the fact that if I didn't do it now there may well be nothing left in the rivers in a few years to make it worth doing then, my timing was spot on, sadly.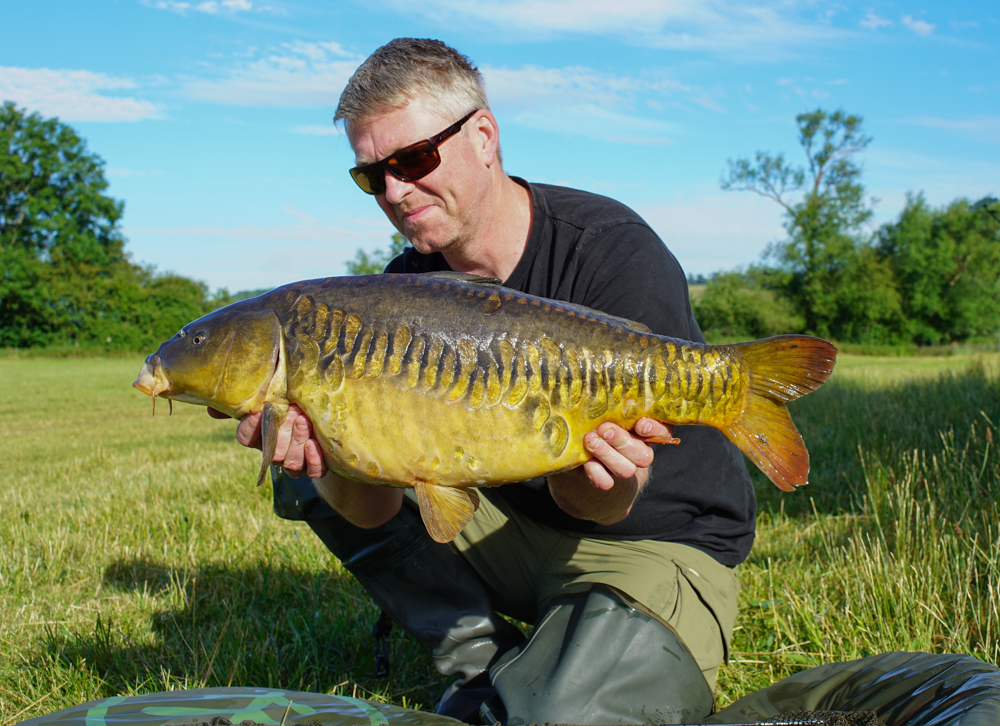 A gorgeous Thames linear, one that has evaded the otters so far.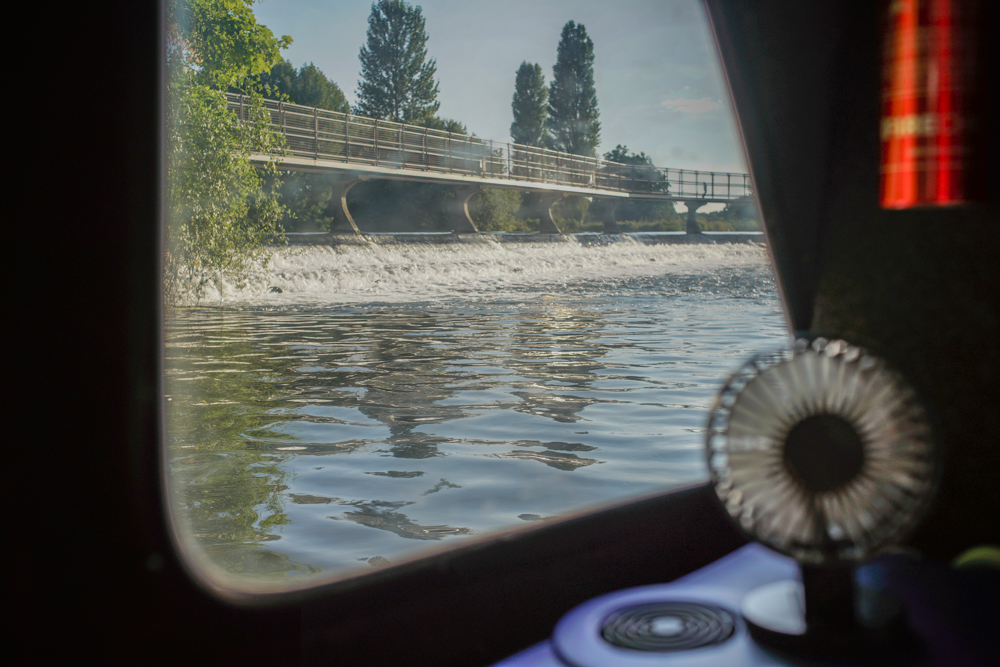 The view from my window.
With the carp sport fading it was pointless to keep up the baiting and with only a couple of trips before France o'clock I decided instead to head downstream, way downstream, to check out a few different stretches, do a little prospecting and hopefully formulate a little bit of a plan for the autumn. I intended to spend the nights in the various weir pools while it stayed hot, where I could enjoy cooler air and this was what I did. Largely it has to be said without much action on the carp front, but not totally so. One weirpool in particular obviously held the odd carp, despite me not actually seeing any, until one ended up in my net that is. I'd stopped at a quiet weir as evening drew in and the sun dipped behind the trees, to find it empty. I had a slow mooch around the pool having a little donk about here and there before making a decision on where to anchor for the night. I ended up in a quiet corner where there was lots of weed and it offered a good view downriver for a good half mile. Boy did it look good for a bite, a classic looking spot and also a deserted one so I was looking forward to a night in the weir alone.
By dusk, I had both rods fishing on clean ground between the ample cabbages and streamer weed just off the back of the boat, no more than a rod length away in five or six feet of water, just perfect. One of the best things about having the boat is being able to get very close to the spots you want to fish and in doing so you have a better chance of landing the fish in a snaggy situation such as this one. I'd not long got the rods in when I saw something roll, I was actually looking right at it when it hit the surface right behind the boat and I couldn't be certain what it was but felt it was likely a pike, as all the Manilla juice from the heavily soaked boilies had pulled in lots of small fish that could be seen flashing in the clear water over the bait.
Anyway, I wasn't going to get too excited, the rest of the evening was quiet and enjoyable not to mention exciting as I was in a new spot full of anticipation, the sort of anticipation you only get as an angler when fishing somewhere new. I lay in bed listening out for fish but heard nothing definite and eventually drifted off to the white noise of the weir, worn out after another long hot day afloat.

A quiet weir pool where Bert and I spent the day.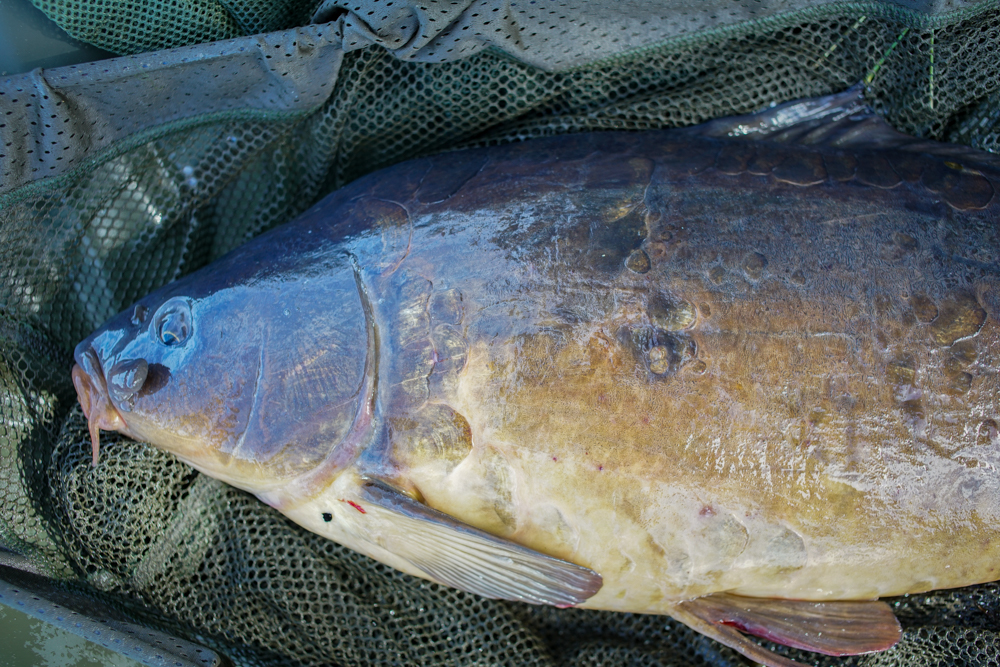 A Thames mirror.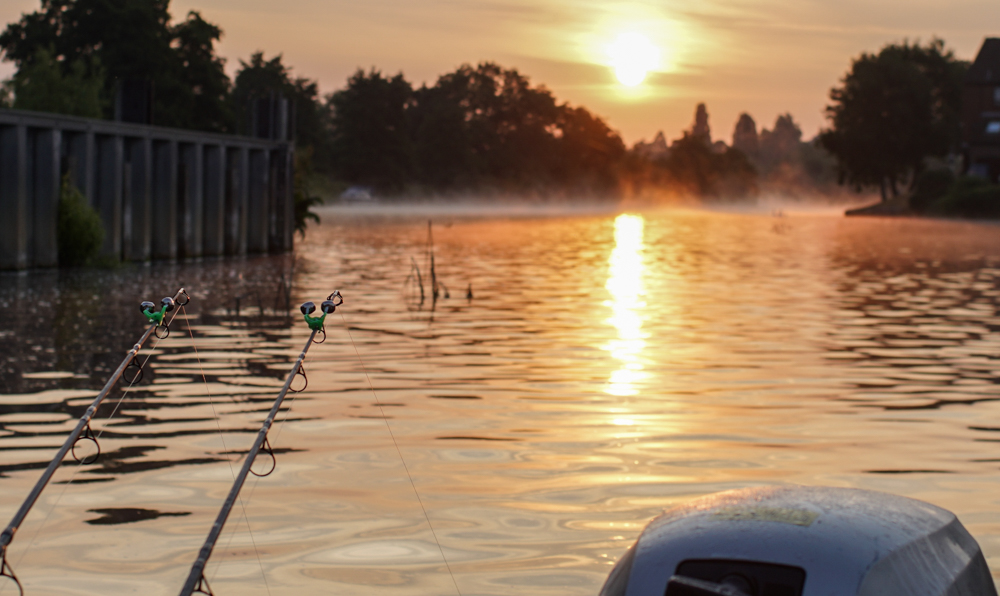 An amazing river dawn, waiting for the bell to ring.
I was up early to a couple of slight jingles as dawn broke, probably chublets snatching at the hook bait I reasoned as I lay there half awake. I forced myself up to make coffee a little while later. It was a gorgeous summer morning so I sent up the drone from atop the boat, mid weirpool, a risky maneuver when half awake and stupid to start with. I was pleased to get it back in one piece and thankfully I also got a few nice pics for my troubles to boot, so it was a good start to the day all in all. A couple more strong coffees and a toasted crumpet later I was just filling the kettle when something heavy sounding rolled right over the baits but I didn't see what it was, perhaps Mr. pike was still around, hunting for his breakfast.
I guess maybe ten minutes later out of the blue one of the rods buckled over wicked tuna style and I hooked into a heavy thumping fish which for a while had me convinced was a good barbel, but after several big runs I started to think it was maybe a carp after all. It then snagged me and I was grateful for the 20lb mainline I was using as what followed would have almost certainly resulted in a cut off with a lighter line. A few minutes of stalemate followed but the pressure told in the end and I started to gain line but it was grating heavily, so badly in fact I truly expected the line to go at any second. A further minute or so of savage grating and then a twang and I felt a big headshake and slowly a big cabbage leaf covered branch broke surface twenty yards down the pool with a nice looking common attached to it. Despite the weak flow it was insanely hard to drag the whole mess back to the outstretched net and I felt sure that should the common wake up and attempt to dive it would only need to shake its head and it would surely pull the hook or snap the damaged line. It didn't, thankfully, and oh so slowly the last few feet to the net went without drama. I let out a big sigh when that one went in I can tell you, a beautiful dawn, and the perfect spot of prospecting that had resulted in a lovely carp and I was feeling very happy with the world I can tell you, angling as it should be.
I left the common in the net and sat back in the cabin to get my camera kit sorted and while I was setting up the tripod I heard a jingle from one of the bells, then a bleep and I looked up just as the rod folded over the buzzer and the line cracked out of the clip, another savage take that tore line off the tightly set clutch – how's your luck.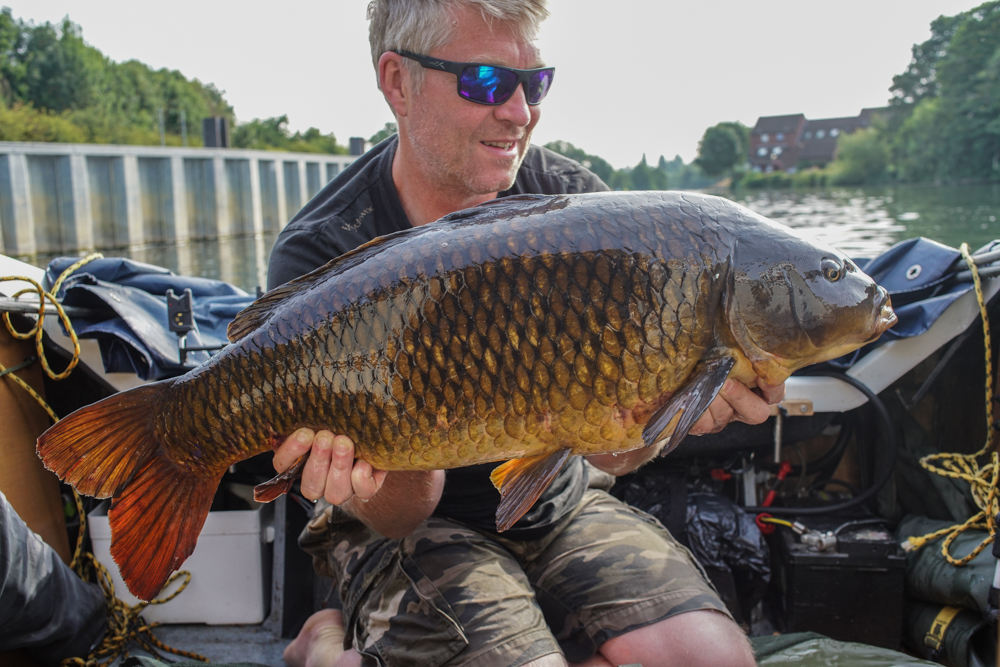 A lovely weir pool common on my first night somewhere new.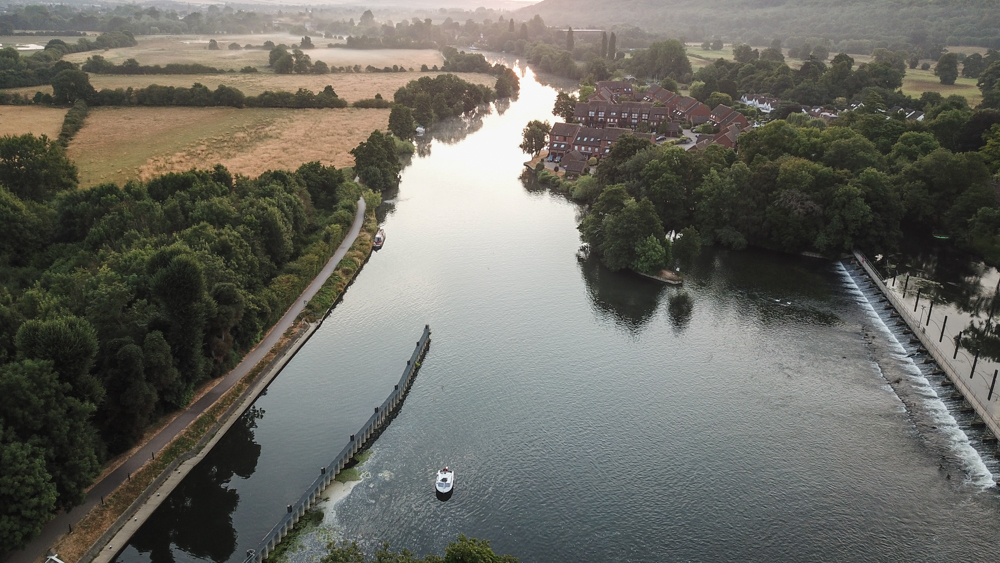 Below.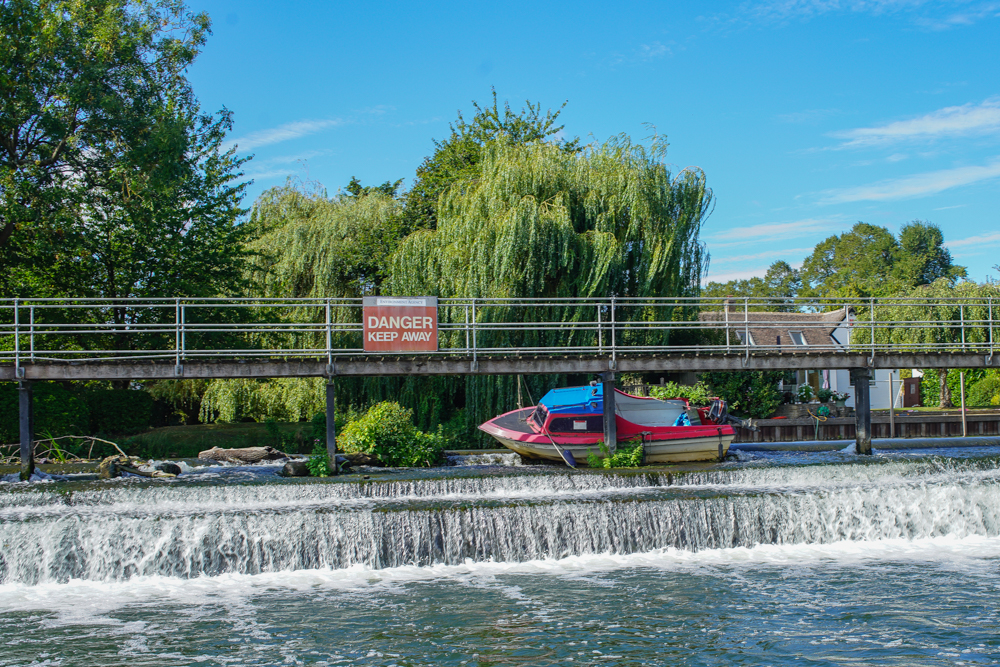 Like the first, this fish went off hard and fast so I let it go and within a few seconds once it had dumped the big lead it hit the surface in a shower of spray and it was clear to see it was a smaller fish but tres angry none the less. Like the first it dived near to the boat into a big bed of viney stuff that looked like potomegeten, the sort of weed that's as strong as rope and it snagged me not five feet off the stern. Heavy pressure soon started to snap the strands and luckily he popped to the surface still encased in a tangle of vines and streamer weed but minus the branch, I scooped him up before he could work out what was happening. Another common, showing signs of spawning, I guessed him to be upper doubles so I let him go and set about photographing the bigger one. In typical river fashion it had gone from calm and serene to madness in minutes but I was over the moon to have dropped cold onto a few fish.
Any other week and I'd have baited the spot heavily and returned a few days later but in only a couple of days' time I was off to the magical lake Cassien, and I'd yet to sort anything out, I'm a fool to myself sometimes but hey ho, I can't help myself where fishing is concerned. I left mid morning a very happy Nick and headed back upstream on the long boat ride back to the slipway, a couple of stretches away, id be back for sure, but wasn't sure when exactly. The old adage says that time speeds up the older you get, you could say I'm starting to notice this, never enough hours in the day it seems.
Before I knew it I was loading the car once again in readiness for the next adventure... Cassien!
We (Hun and I) set off at midday for the tunnel. Il be honest, I've been using the tunnel since it opened and never looked back, but for the last few years at least the service has deteriorated hugely. The gripes are many but the simple truth is that over the course of my last dozen crossings at least, I've been delayed on every single trip and I don't like delays, especially when I'm paying. Perhaps they have become a 'victim of their own success' or perhaps they are just failing. My take on it is the latter. Either way I have decided to go old school in future and go back to using the ferries for half the price, so there.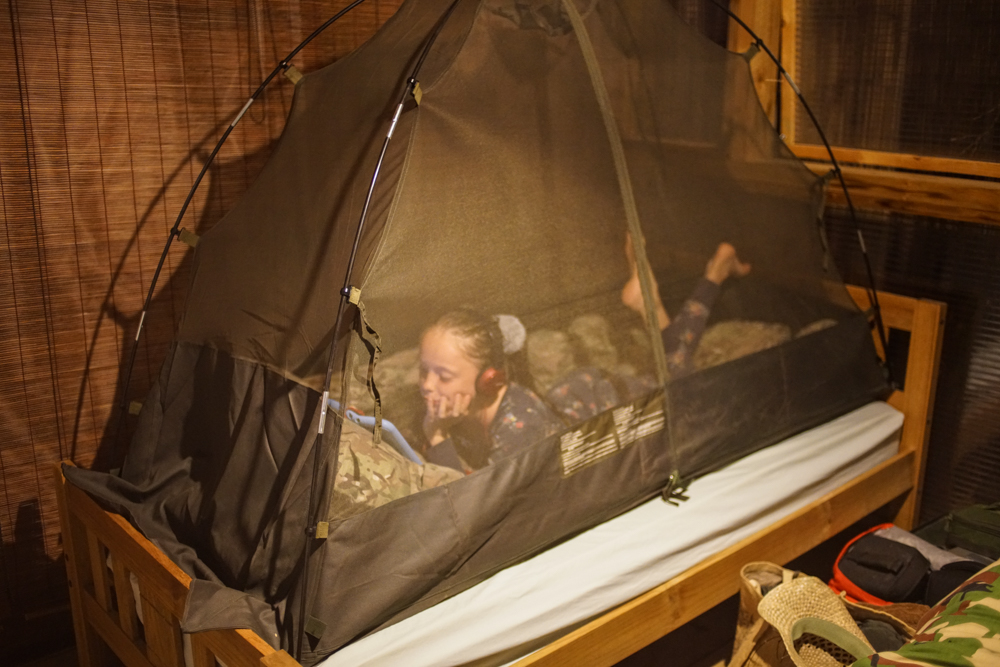 Honey was safe from the mosquitos.
Anyway, I arrived at the tunnel earlier than intended and so paid twenty or thirty quid extra to go on an earlier train, only to end up being delayed later than my original crossing, I wasn't happy as you can imagine. I'm sure that Eurotunnel just expect the good will of people who are off on holiday to just grin and bear it. Grrrr, so it was already late evening by the time we hit the French roads. Honey was oblivious to the passing countryside as she (like most kids today) had her head buried in her iPad and was only concerned about her 'personal hotspot' and snack stops.
Of course, after so many years driving to the south of France I know the route off by heart and so we whisked down towards Lyon. My plan as usual was to push on until midnight, by which time id be somewhere between Chalon and Lyon and close to the river Saone. I intended as I had done so many times before to leave the motorway and head down to the river, throw out the beds and grab a few hours sleep before getting up early and hitting the road again. Even with snack and fuel stops I was hoping to get to the great lake for early afternoon, a long old drive if you're not used to it I can tell you.
The first leg flew by, clear roads, loud music and a buoyant mood saw us arrive by the river near to Tornous about 11pm. It had been a scorching day but it was a clear and quiet night and by the river it was a bit chilly so I left Hun in the warm car while I put out the beds and threw up a brolly to keep the damp off my little princess. We were soon asleep and I was up early to my alarm at 6am. I warmed the car up while I packed everything away and we were soon on our way once more. A quick stop near Lyon for coffee and croissants and to fill up the car and we pushed on.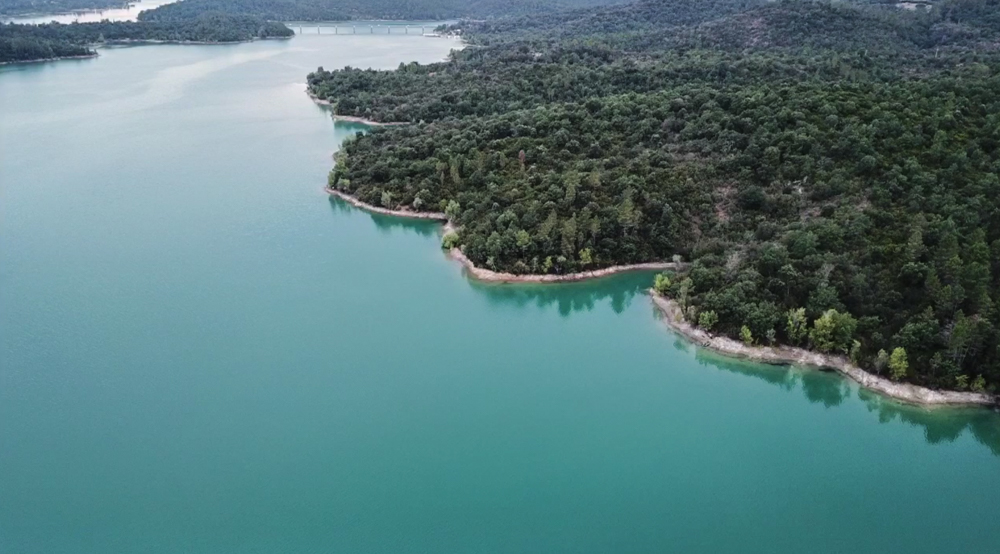 A different view.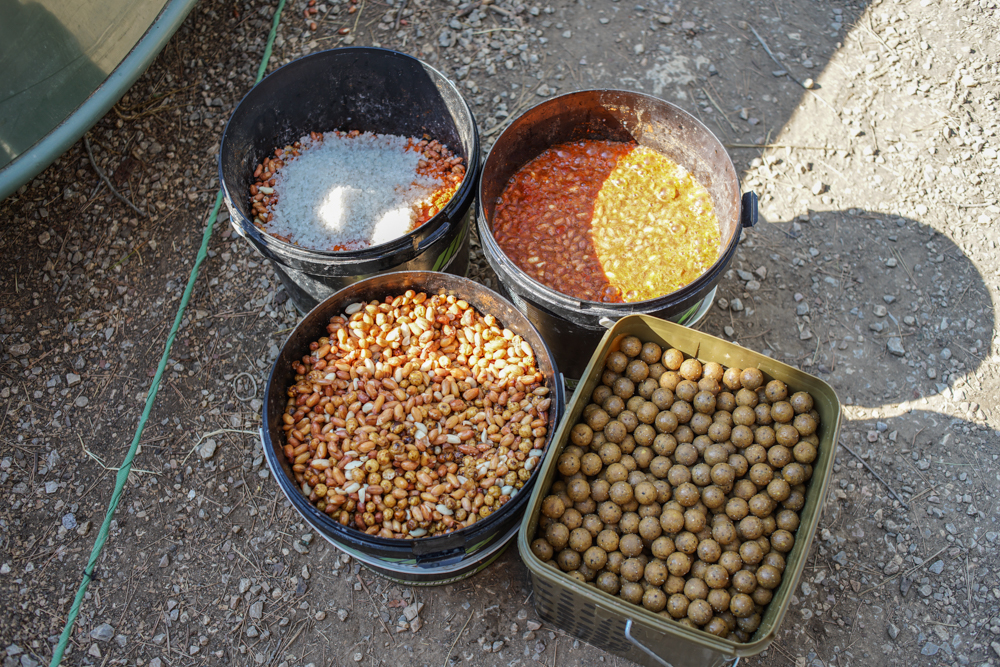 Getting ready to bait up.
With every passing mile from there on in Hun got more and more excited, bombarding me with questions.
It was 2pm as we crossed the famous bridge, we had made good time, I was happy to see hardly any sign of anglers and Hun was happy to see some of the pedalos had big slides, and there are now inflatable water parks. I'm not kidding when I say that she must have asked me a million times if we could get the one with the big slide and could she go on the water park, she nearly drove me mad, bless her.
We arrived at the campsite to find Mick, Dave and Roxy the mad carp dog waiting and the heat unbearable.
Did I forget to mention I was meeting up with Mick and Dave? I must have forgotten that bit. I'd arranged to meet Mick at Cassien for our summer jolly. We would be staying with our friend Dave who runs Cassien Carp Tours. The previous year we had stayed at Dave's, and the year before that, I guess its looking like its become a yearly thing now, whether he likes it or not. What makes it so enjoyable is that we all treat it first and foremost as a summer holiday, tres relaxed. You have to remember that it is hot down at Cassien in the summer, very hot. Early starts and late finishes in extreme temperatures mean that most end up fishing one day in three as it takes it out of you. Our take is a little different in that we have been there done that and instead we like to just head out for the afternoon and evening which offers the best chance of a bite. Fishing in this way is not just relaxed but it also allows you to do other things and not get wiped out in the heat. I of course had Hun with me this time around so it was soon agreed that mornings were girl time and from 5pm was boy time and that meant fishing till 10 pm, everyone seemed happy with this agreement especially Hun who exclaimed that girl time meant pedalos EVERY day, I'm sure I heard my wallet moan. I have to say it was great to be back at Dave's, catch up and hear what had been happening of late at the lake and the first evening we went out to fetch pizza and relaxed with a few cold beers, I was very happy to see my friends and instantly slipped into holiday mode.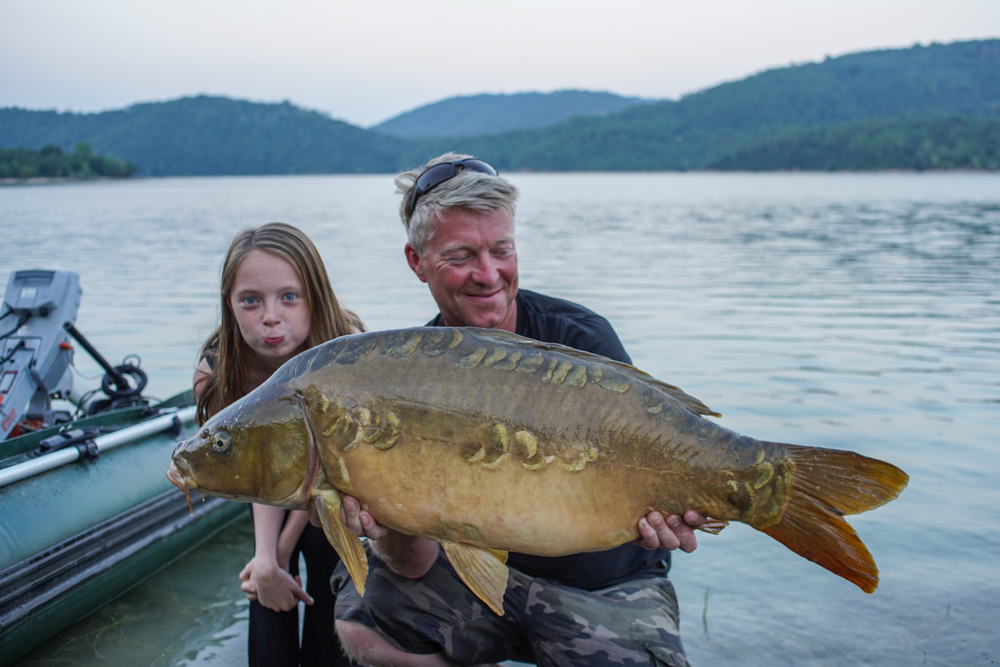 A big battle on a roasting hot evening.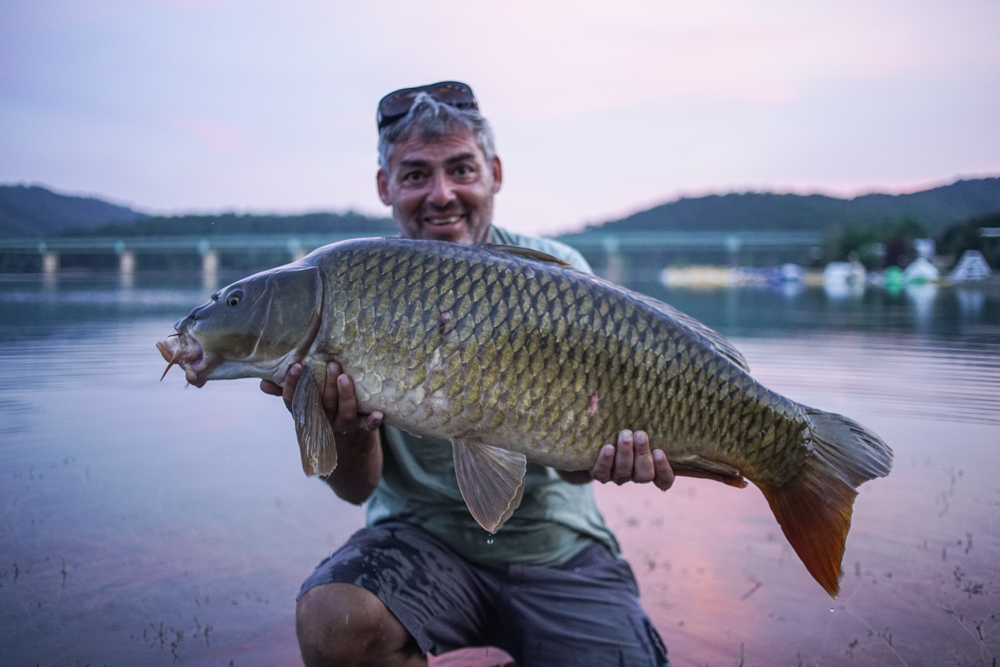 Pushing the camera in near dark, Mick with a welcome visitor.
I'm sure most people know that there is no night fishing at Cassien and hasn't been for quite a few years. Like most day only waters the fishing can become quite predictable in that last knockings are usually the very best time for a bite and in previous years this has made it quite stressful as you wring out every last minute in an attempt to get a bite. Of course the guarde de peche are also active at this time and so you are rolling the dice on being fined, or worse, being left rod less. The other aspect is that for the most part everyone else who fish days are also hanging it out each evening and that can make for a big queue at the ramp as everyone loads their vehicles in turn. Often its way past midnight by the time you get back to the campsite, eat and have a few beers meaning its way late, or rather, early by the time you get to bed, hence why we take our time in the mornings, a leisurely breakfast, a bit of shopping etc. then get down to the lake in the afternoon once the heat starts to ease off from scorching to just roasting.
We stuck to our plan, during the day I took Hun swimming or pedaloing and in the afternoon we went to the lake, loaded the kit into the boat and went fishing. With a lack of guarde it was clear there were many people fishing at night, blatantly it has to be said and its tres disheartening to drive a thousand miles, spend all the money you do on fuel and tolls etc and pack up at bite time just as people are arriving to do the nights, often where you have been fishing, but, its one of those things and I can't say I blame them but it grates on me because we stick to the rules. The only real plus was that the French who were catching a few each night in the south arm were putting up pictures on social media and so, most were headed that way in the evenings to fish the nights as they do. This was a clear (and tres rare) opportunity for us to bait an area in another quieter part of the lake with less chance of it being jumped on so we did just that. A few afternoons looking up the deserted north arm and we settled on an area to hit by process of elimination and hit it we did with big wallops of sticky Manilla boilies and particles. We were convinced we only needed a few days to get something going without getting slugged and we would be able to get a bite once they found it.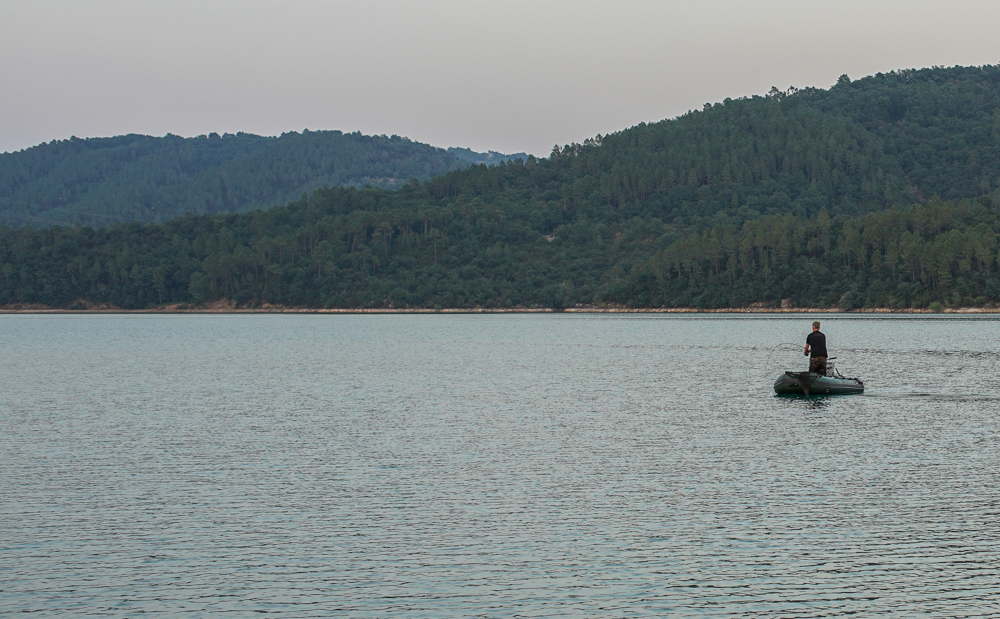 Being towed off up the north arm by a big angry common.

Well, as we know, you need a break sometimes in carp fishing and for the first time in a while, for both of us at Cassien, we got it. We stuck to the rules, we didn't get sheeped, no one saw or heard us baiting and despite the overwhelming anxiety that it would all be ruined, it didn't get ruined and we got into the same swim for four evenings on the trot while mostly everyone else hit the south arm, ha ha ha, check mate. The result was 11 bites in three evenings, a lovely result indeed and just deserts for the work involved, we'd angled and we'd caught a few, what's more we had caught them well and truly on our own terms, we didn't cheat and proved you don't need to with a little thought and a bit of leg work. I love Cassien and have since my first trip nearly twenty years ago but it can be very stressful fishing the days, for many reasons. This time around we witnessed some serious catch at all costs fishing because of the lack of guarde and it didn't sit well with me at all, hopefully someone with a bit of passion for the lake and the fishing like Gerrard did will step up and take the helm as it were. It's way too special to let it become a free for all.
We let the clowns and their antics wash over us and left for home happy with our result. The lake looked awesome as ever and compared to the parched countryside in England the south of France was lush and green, just magical as always. We caught a few nice ones too, I had a couple of lovely 40s and Mick at long last got his first Cassien big'un after 48 day sessions on the lake over the last few years – a 48 pounder, yes you read that right, but that's his story to tell. Lovely times all round and a great break with my friends, my only regret was I wish we could have all stayed longer.
I get asked a lot about fishing at Cassien and I always say the same thing, if you want to go and have a trip to the great lake then give Dave at Cassien Carp Tours a ring, he offers a great service and I guarantee you will love it there as we all do. Of course, nothing good lasts forever and soon we were back in the UK. I left early and did the drive home in one slap, it hurt, and yes I got delayed again at the tunnel.
The whole way back the river Thames was on my mind. Time marches on mercilessly and with autumn just around the corner I had plans to make, baiting to do and hopefully, fish to catch. Of course with Autumn comes the perch fishing too, its going to be hectic I'm sure, I can't wait, there really is never enough time to enjoy the best of everything. Did I say that I'm off back to France, yes I know…
As I write I'm only a few days away from another trip, this time with my girlfriend to a new part of the south of France, or maybe the east of France or perhaps Belgium. Truth is I've not made a final decision as yet, but I need to hurry up as I'm going in two days' time. I'll of course let you know how I get on upon my return
Be lucky
Nick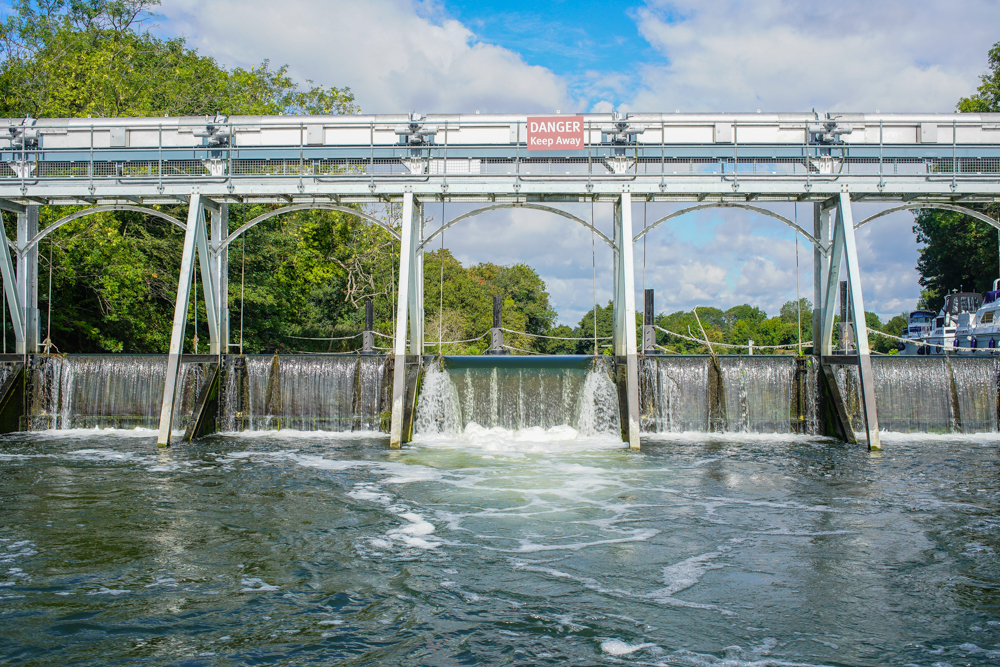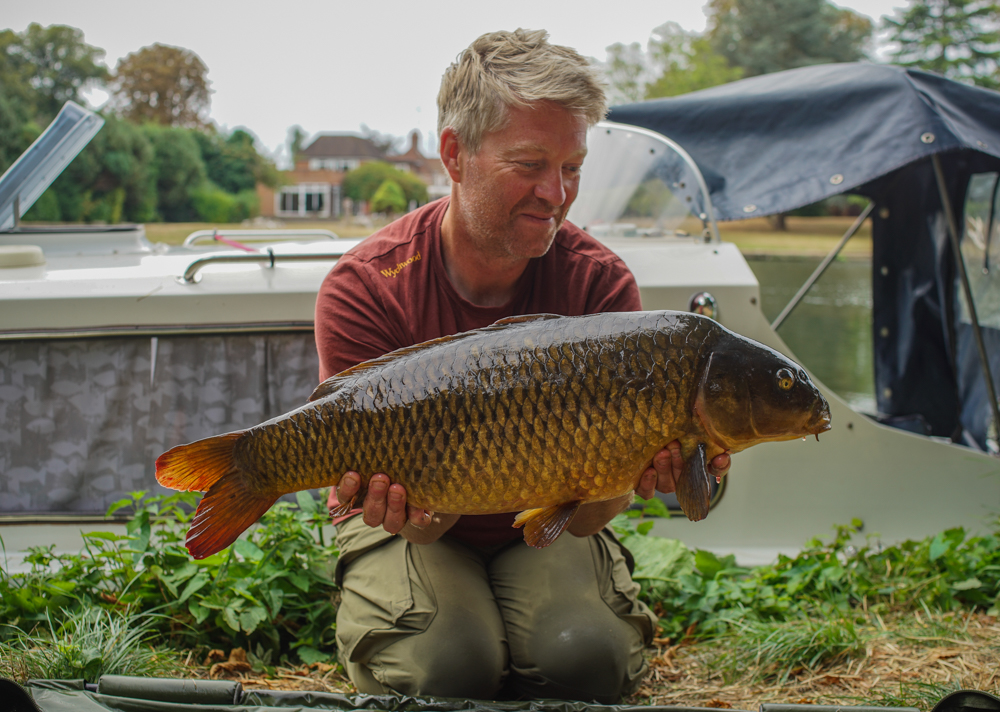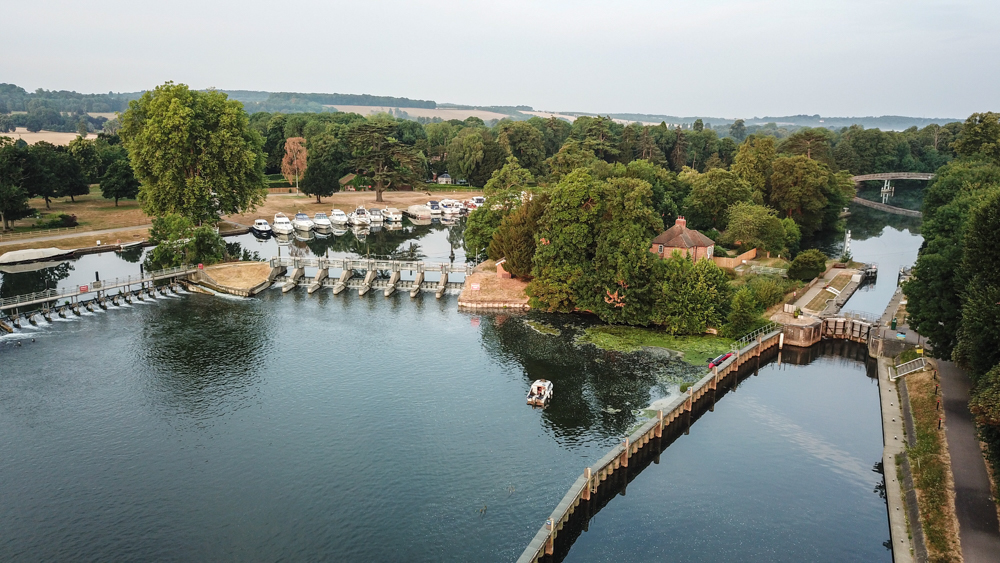 Another morning, another weir.
Comments