It's been a strange year angling wise for me. Up until this point, mid July, and to put it into some real perspective, I've yet to even go out for a day's floater fishing, bizarre when you consider the recent heatwave and the fact that I'm a stone cold floater fishing addict and have been for many years. Of course there had to be a very good reason why I've been otherwise occupied which of course there has.
Over the long winter we endured I got myself a new boat, a bit of a project to be fair but much bigger than my previous tub. Most of the late winter and early spring saw me working hard to get it exactly how I wanted it as a carp boat, without it looking like a carp boat you understand, which meant lots of time invested to be sure it was ready and on the river in time to search out and bait a few spots in time for the start of the traditional river season on June 16th. There was lots to do so I got busy on the boat most days with plenty of help from friends as and when they could spare a few hours.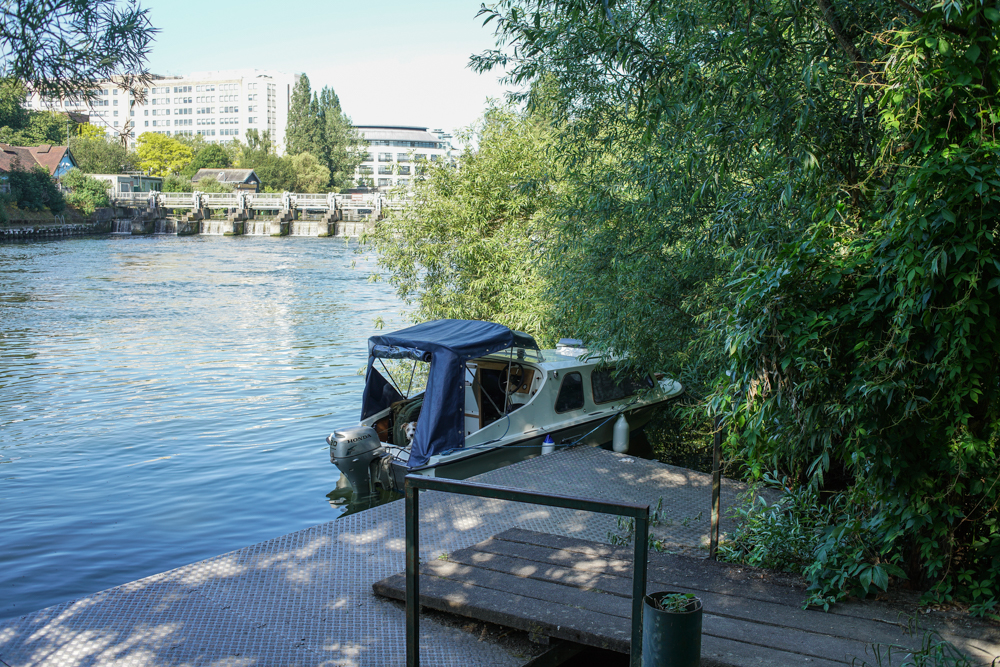 I have travelled way in excess of fifty miles up and down the river looking for fish but the relentless heat sees me drawn to the weirs for shade and a bit of cooler air.
The interior was little more than a shell and required complete remodeling if I wanted it to be the perfect carp fishing vessel, comfortable enough to spend a few days aboard at a time. This meant changing the interior layout to how I wanted it and installing new electrics, new lights, lots of charging points – the list went on and on. By the start of June and hundreds of hours of work down the line, not to mention the ever rising costs, I was near completion. All interior and electrical work completed, including removing a bulkhead and the old toilet compartment and waste which went out straight through the bottom of the hull and that meant having to remove the fittings and fiberglass the holes that were left behind. Then once all the major bits were done I had to book an inspection so that a boat safety certificate could be issued, and only then could I get the insurance sorted. That left just the boat name and registration to finalise with the environment agency once I had all relevant documents and I would be totally legal and good to go out.
A week or so before the magical 16th I was finally ready and the first big test was going to be to get to the river and see if I could manage to launch and recover the boat alone, a critical situation because if I couldn't there would be little point. To be free and fish the river how I wanted to I knew that a boat on a trailer was the only way. A full time mooring is very expensive and would only limit me to the immediate stretch, I wasn't down with that, I want to be able to go where I want whenever I want, and that included being able to move between areas from the upper river as far down as the tidal river should I so wish to really be able to make the most of the boat. Independence and freedom to explore is key to the overall experience and I wasn't prepared to compromise, I wanted to be able to do it all or nothing at all and I wanted it on my terms.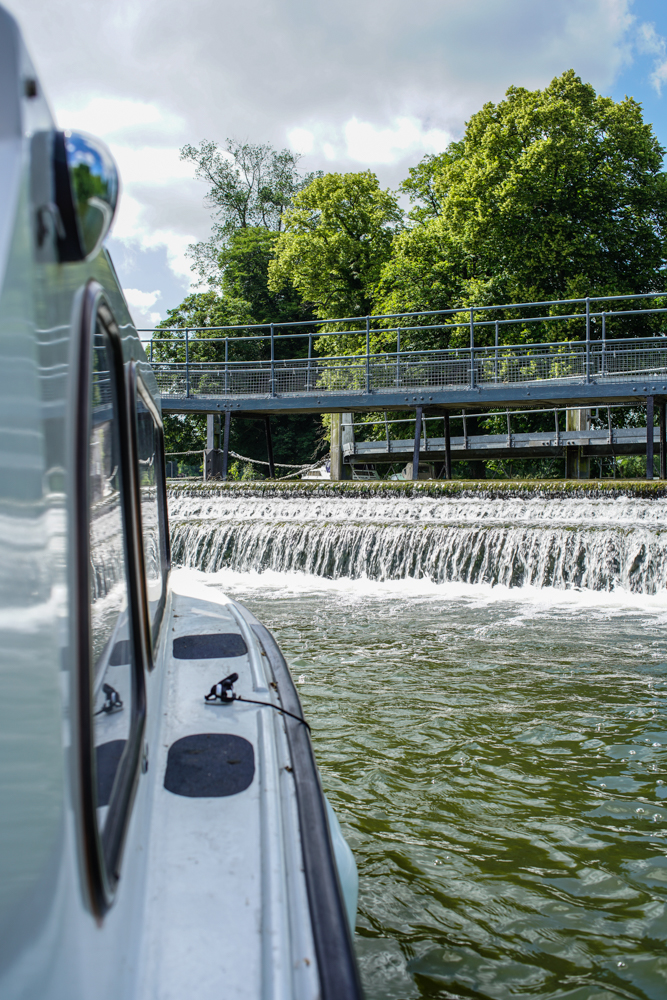 I've also done a few nights since the start tucked away in several weirs where I expected to find fish due to the hot weather, but I've not seen a single carp as of yet.
So long story short I looked long and hard at areas to fish on the river, I had no real areas in mind other than being naturally drawn to bits I'd never laid eyes on before, above Reading looked good to me, it was far enough away from the lower, much busier bits and not only did I know little about the area which was a bonus but I also knew nothing about the fishing locally, I'd be going in cold, exactly the challenge I crave. That must seem a brave, or stupid statement to some but although I may be a fool to myself I get my buzz from doing my own thing and I'm quite prepared and capable of sorting things out for myself, the easy option isn't my option.
I didn't know what to expect and I didn't want to, there could be fish rich areas or I could be faced with otters and no carp for mile after mile – I really had no idea but was relishing the thought of finding out as I went along.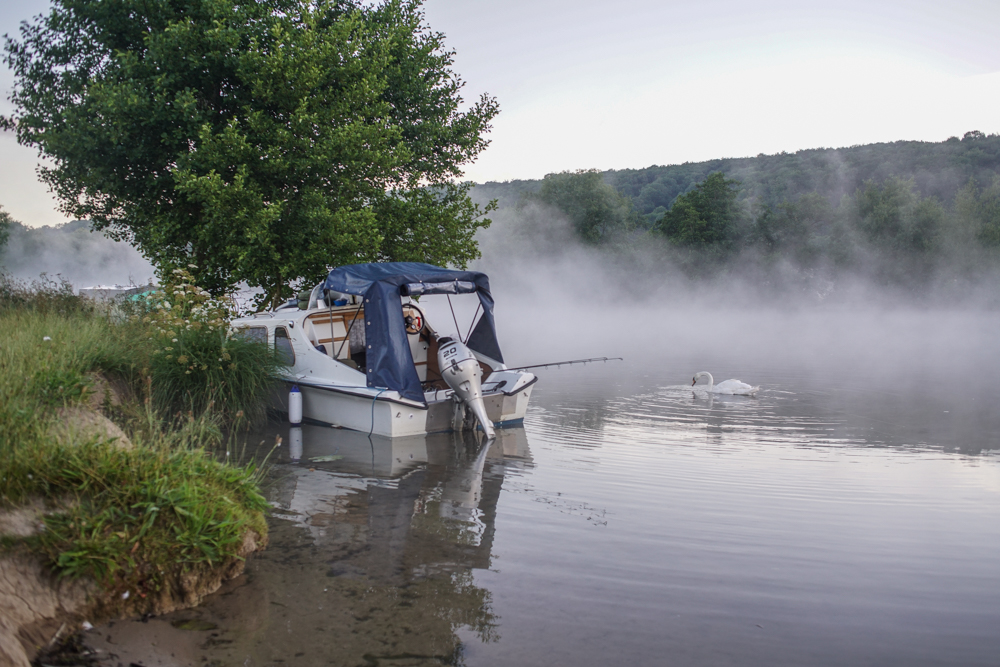 I have seen some epic dawns lately and its brought it home to me just how beautiful the River Thames is.
Time marches on regardless and before I knew or was really prepared for it the start loomed so I began looking for slipways with urgency. I'd been lucky the previous year and had found several 'safe' slips lower down the river. The very last thing I want when out on the boat, possibly miles from the car and trailer is to be worried if they are safe or not. Lots of driving left me demoralised as the only public slipways were very shady or locked off and I started to feel all the effort may have been in vain. It was make or break time and unbeknown to me was about to get my first 'lucky break' as it were. You see whilst looking at possible stretches in detail to explore I stumbled across something which was about to turn things around. I managed, by sheer chance I might add, to find out about a small mooring that had a private slipway and it was in an area way up river that gave me access to three long and little fished rural stretches within an hour's steam of the slipway itself, it sounded too good to be true.
Of course bang on 9am the following morning I was on the phone to the mooring and soon, after a chat and explaining that I'm just a fisherman looking for some peace and quiet I managed to secure a key to the slipway for a fee. Excited wasn't the word and I was soon making plans to go for a look, pay the money and grab the key. It was fifty miles from home to the mooring but the location looked superb and I made plans to head back with the boat at the start of the following week with the intention of spending a few days afloat to have a good scout about and a bait up, ideally I wanted a spot on each stretch to give myself some options for the first few weeks of the season before I headed off to the south of France for a spot of summer fun fishing.
Monday came around and I was ready having spent the weekend preparing food and bait and doing all the boat checks for the umpteenth time. I was worrying about nothing really, the four wheeled trailer made maneuvering the whole thing really easy and it towed like a dream, no dramas... phew! There were the usual teething problems but not only did I make it there without issue but I also managed to get the boat in the water and off the trailer without too much drama. I was very happy, not to mention relieved in the extreme that she floated and all was well.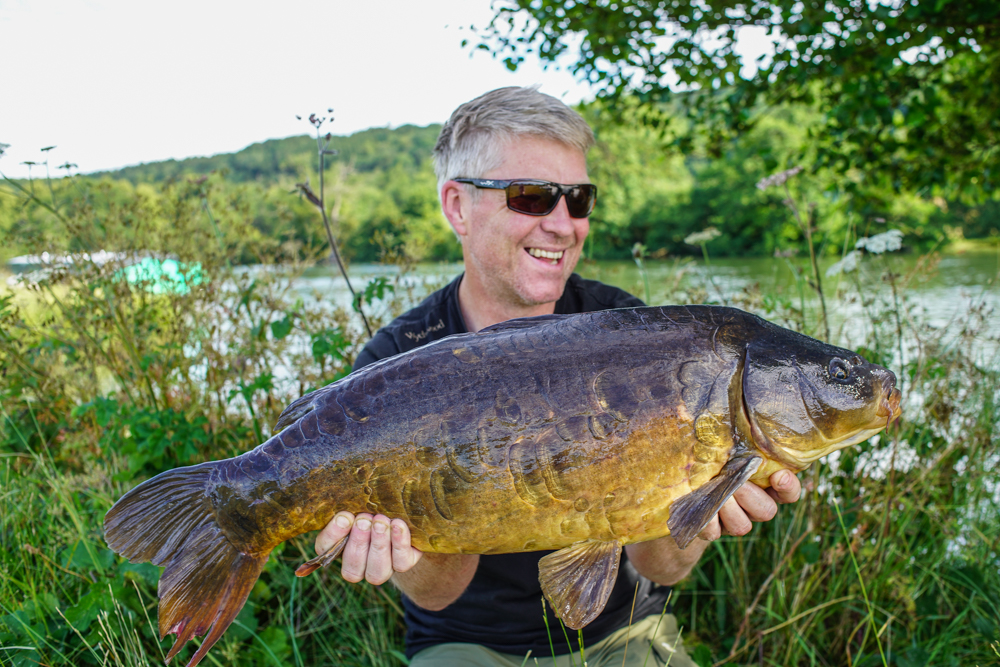 A truly amazing old Thames carp with a tale or two to tell, an encounter with an otter I'll wager the reason for the damage to his tail.
I spent the first day heading downstream, looking at every likely area en route, I'd said to myself that I'd be very careful to look at each area I fancied objectively before putting any bait in. I decided I'd keep away from spots that could be fished from the bank or were close to likely looking bank spots, this was done to avoid any disappointment as there's nothing worse than doing all the work and getting sheeped, or arriving to find anglers in the spot, I was erring on the side of caution really. I ended up, as the sun started to set in a quiet bay off the main river, where I sat and watched several fish coming and going through a gap in some islands. It looked like there was a good chance to be had so I decided to bait it heavily when I left the following morning at first light and continued on my travels. I have to say the first night afloat really was perfect and I settled down in the evening to a film and slept like a king, undisturbed until first light when a carp jumped close to the boat and stirred me.
Literally a whole bucket of nuts and Krill boilie dripping with Krill liquid and a good few handfuls of ellipse pellet were put on the shallow, sandy spot, and I crept out through the marina at dawn, coffee in hand, headed north to look at the weir at the head of the stretch and then onto the next long stretch, a good two hours away – I was truly in my element.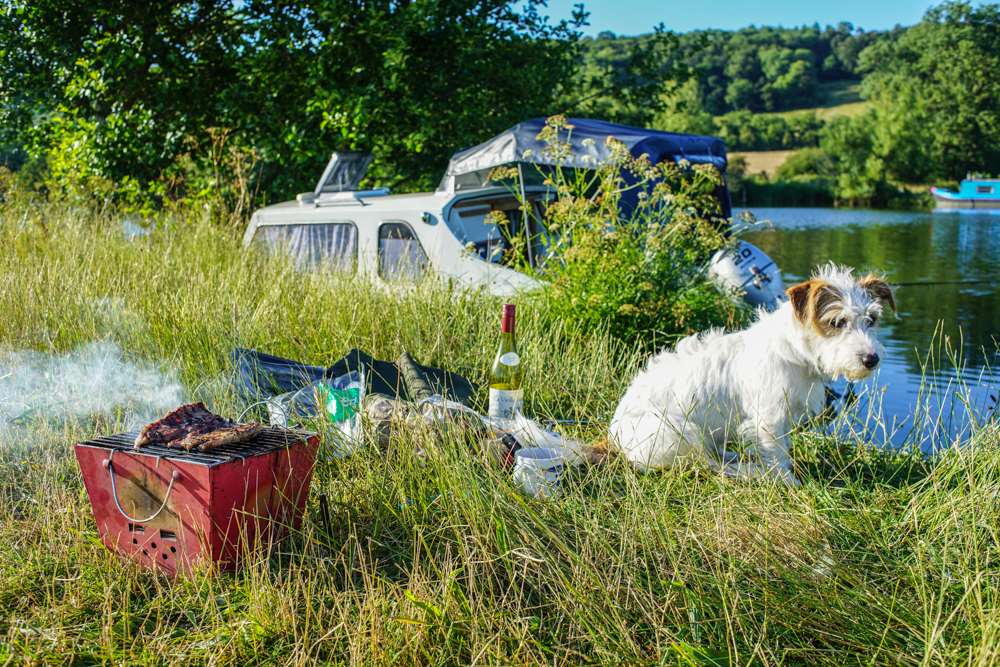 Bert and I have been loving the great weather and the freedom of river life where everyone seems to have a smile on their face.
I was joined that evening by my girlfriend and we moored as the sun set in the middle of nowhere and enjoyed a nice bbq. As the light faded the river literally came alive and we watched lots of good sized silver fish, and the odd bigger fish, probably chub rolling along the far bank where the flow was ever so slightly stronger. It started to get a little damp as it got properly dark and right on last light I saw something touch the surface way upstream that was very different to anything else I'd seen. It only touched the surface and I didn't see it but I felt sure it was too slow even for a bream and I was sure deep down that a carp was responsible, little did I know at the time that that one sighting would be key to putting the first carp of the season on the deck of my boat. I'll be honest, those first few days flew past despite the fact I wasn't fishing. I left the following day with three baited spots over two stretches primed in readiness for the start the following week, not to mention having 'christened' my boat, ha ha... life felt good.

The locks always look the part for a bite.
I'm not exaggerating when I say that I had literally left nothing to chance when I left home twenty-four hours before the start. The boat was stocked with everything I could possibly need for almost any species I was likely to encounter on the river, not just carp. I had jigging kit, float kit, feeder kit etc. etc. I was prepared for any opportunities that I came across, I had to be.
What I wasn't prepared for was getting kicked off my number one spot after a long steam to get there and a lock to negotiate. I'd not long dropped anchor when a man with a shotgun over his shoulder informed me that I was on private property and couldn't fish and that I had to leave. I could have argued, I could have told him where to go but do you know what, I thought to myself that things had gone way too easily up to this point and knew that sods law would turn up sooner or later so I conceded and left. I've been fishing too long and had my fishing thwarted on so many occasions that I wasn't going to get down about it, I'd just head to my number two spot instead and see what happened. Well, I guess it was never going to be easy and I stopped off to let Bert have a run and got talking to a boatie who informed me that there was not one but two regattas on over the weekend and the whole area would be gridlocked with rowers, more bad news, you have to laugh, talk about a spanner in the works.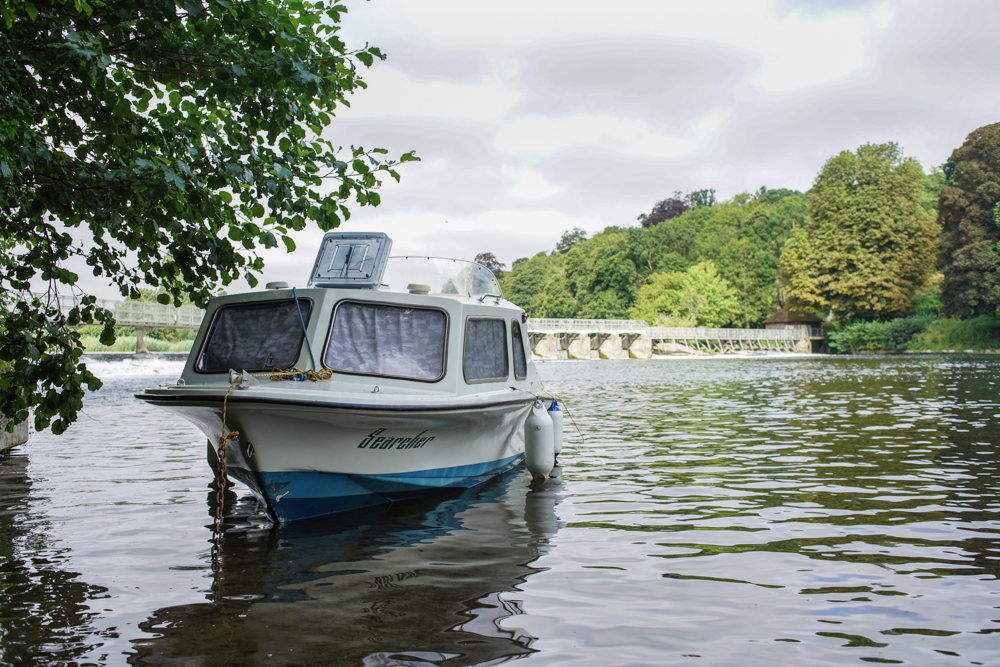 Another hot day, another shady weir, a nap and hopefully an obliging barbel. Pic 07 Another hot day, another shady weir, a nap and hopefully an obliging barbel.
Anyway, lady luck threw me a life line because as I headed out of the marina I stumbled on two carp swimming along the channel out to the main river, one of these being a heavily scaled mirror that looked a good 30lb+. Obviously I'm not one to look a gift horse in the mouth so I pulled up at the entrance and had a lead about. It was deep, having clearly been dredged to enable big boats in and out and in the heat, a ten-foot-deep spot wasn't the one but I decided to do the first night there and head off early back upstream before the regatta started, so I baited with a little pellet and a few glugged boilies.
Obviously with it being the first night I sat up in a quiet spot and got the rods ready with a view to dropping anchor at the entrance just after dark so as to not draw too much attention. All the time I was getting ready I hoped no one else was planning to turn up for the start at the entrance. A funny thing happened that afternoon, two blokes, obviously carp anglers followed me all the way up one stretch and I had to go through the lock to lose them, sit up for a while then head back down after dark to my spot once they'd gone. I boated round the bend in the dark a few hours later and thankfully there was no one else around. I enjoyed the evening and the run up to midnight although I was a little anxious that at the last minute someone would turn up to fish but no one did and at midnight on the dot I lowered in two rigs just behind the boat, poured a glass of red wine to toast the new season and enjoyed my first night afloat with the rods out, pretty much the perfect scene, and a lovely still night to boot, very relaxed indeed.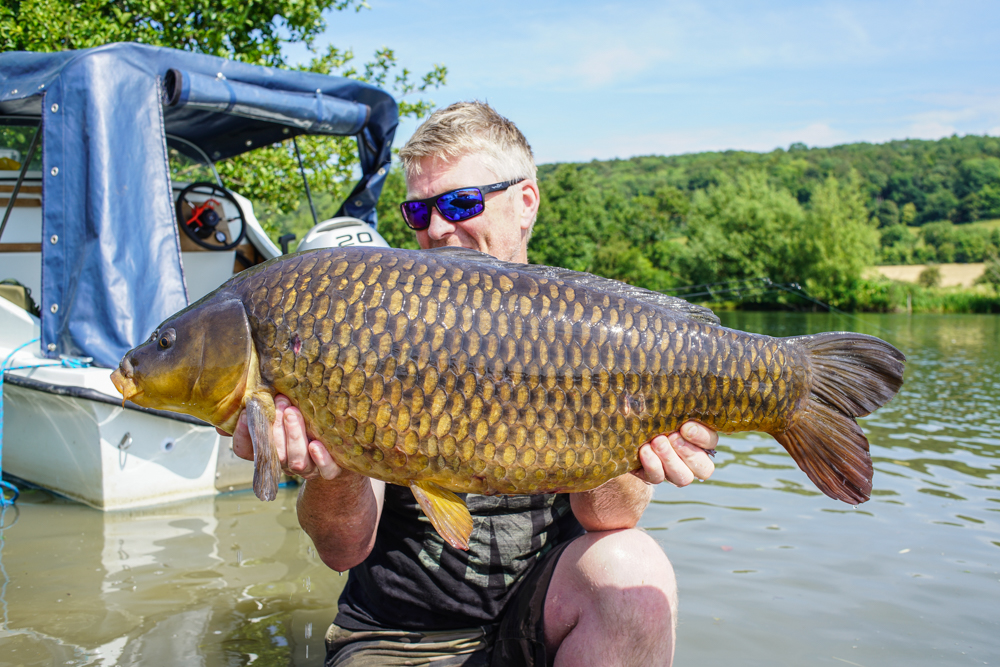 A big Thames common from way off the radar, my 4th fish from the area and I was blown away, the result of a LOT of work, a lot of travelling by boat and many hours by car – worth every penny and every second invested!
Apart from a few bream the morning dawned carpless and after a coffee and toast for breakfast I pulled the anchors and headed back upstream and out of town before the regatta began. With both my main spots now out of the window I headed back up into the wilds with a new plan, I'd do a bit of prospecting over the following couple of days and drop onto anywhere that looked good or offered a good view of the river and do the nights. It's funny how things turn out in carp fishing as I ended up on the spot I'd stayed with my girlfriend, where I remembered the sighting on dark, where I was sure I saw a carp roll. You have to be pragmatic about the fishing on the river, there are so many more things that can go wrong when river fishing as opposed to stillwater fishing, and as we know if it can go wrong it often will, so your mindset needs to be very different.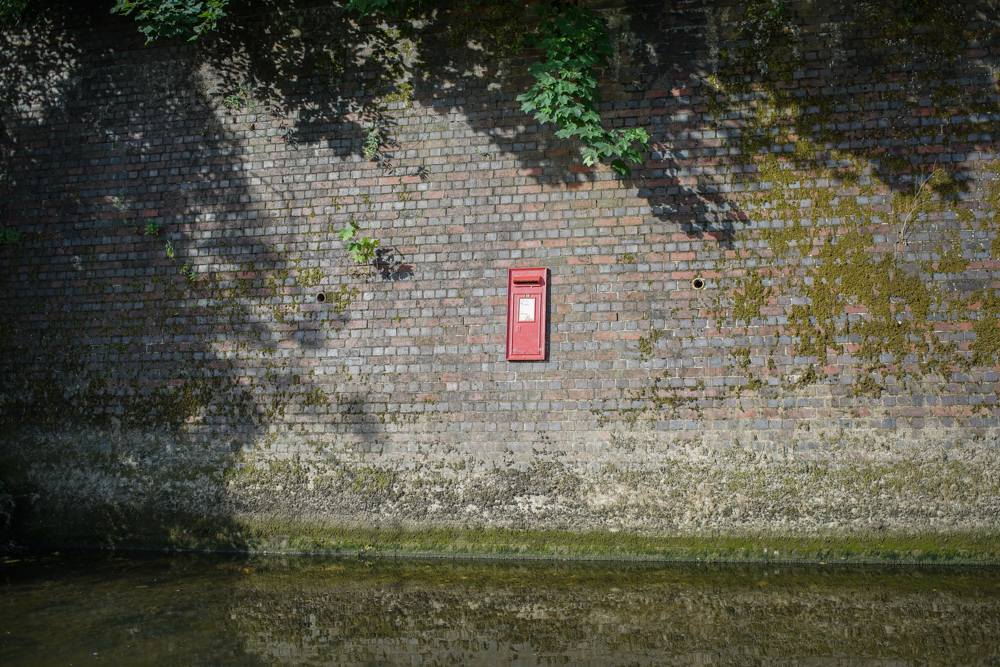 In the middle of nowhere, there's always something out of the ordinary to put a smile on your face.
Anyway, perhaps it was fate that brought me back to that spot in particular, but it looked as good a place as any and besides it is also very remote, not to mention beautiful. It's also a long old walk from anywhere so I was unlikely to see any bank anglers. Not that I'd seen many anglers at all, a few pleasure fishing here and there but not many considering it was the 16th. I lit the bbq and Bert ran free and we licked our wounds by way of a relaxed and quiet evening.
I had a bleep in the early hours after lots of 'rattles' from smaller fish and I forced myself up to check as indication is not great in flowing water for anything less than a screaming take. Whatever had picked up the bait had run downstream, back toward the boat and as I tightened up to it the line grated and then cut clean, an odd occurrence and although I didn't feel anything to reinforce it, I felt that a carp might have been responsible. The rest of the night was quiet and before I left to find some shade the next morning I had a good lead around and a bait up with a view to returning later in the week. I headed off on my exploration upstream and spent the hot day swimming and napping in the shade like a modern day Huckleberry Finn.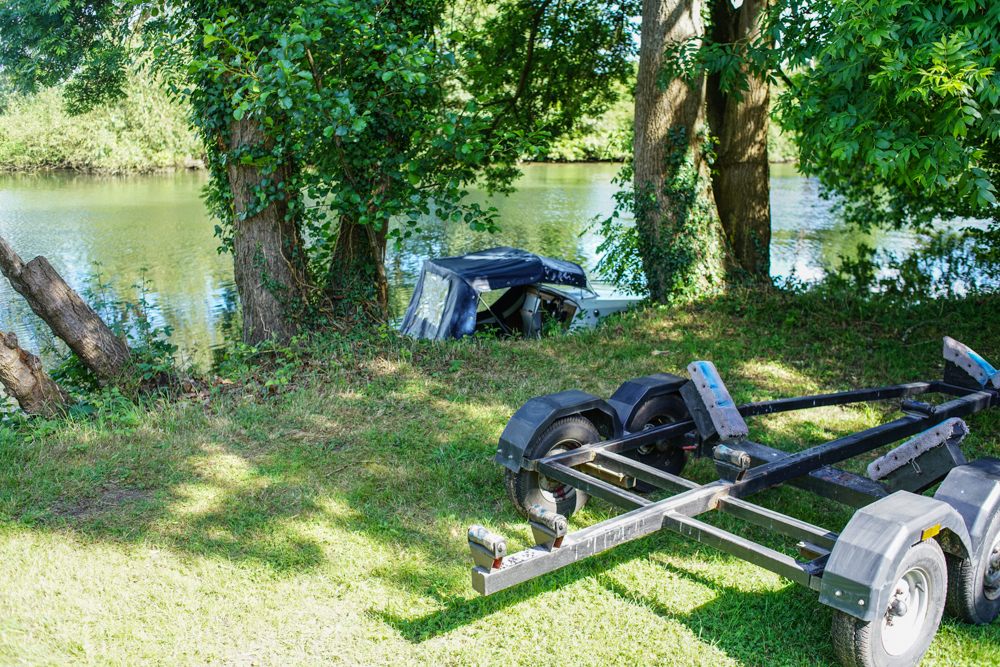 Lady luck smiled down on me when I found this little bit of heaven.
I guess the temperature must have been close to 30 degrees that day and I couldn't help but think that any carp would or should have spawned by now. I'd hoped that by keeping on the move I'd have stumbled on them somewhere in the act but no such luck. A good 30 miles travelled and little more than a few small chub being the biggest fish I saw in the water. For sure, if they had already spawned then the weirs should be the likeliest places to find some fish as they offered deeper, cooler and more oxygenated water so I headed to the top of the stretch to check out the weir. En route I looked at google earth and was encouraged to see the weir had a good sized area of shallows that looked unreachable from the bank, so I headed there with the intention of doing the night.
As expected it looked the part alright so I had a good lead around, picked a couple of likely spots, baited them and returned as the light faded to do the night. Would you believe it I never saw another angler and what's more, a nice brace of doubles gave me two lovely takes and both fought really hard. There was just one problem and that was that they were barbel and not carp, oh well, it was a great nights fishing regardless, but still no sign of a carp.
I headed home the following day as I had run out of supplies and needed more bait. It was my weekend to have my little girl who I knew would love a night out on the river, so I headed back to the car and the long drive home, id be back in a day or two for another go.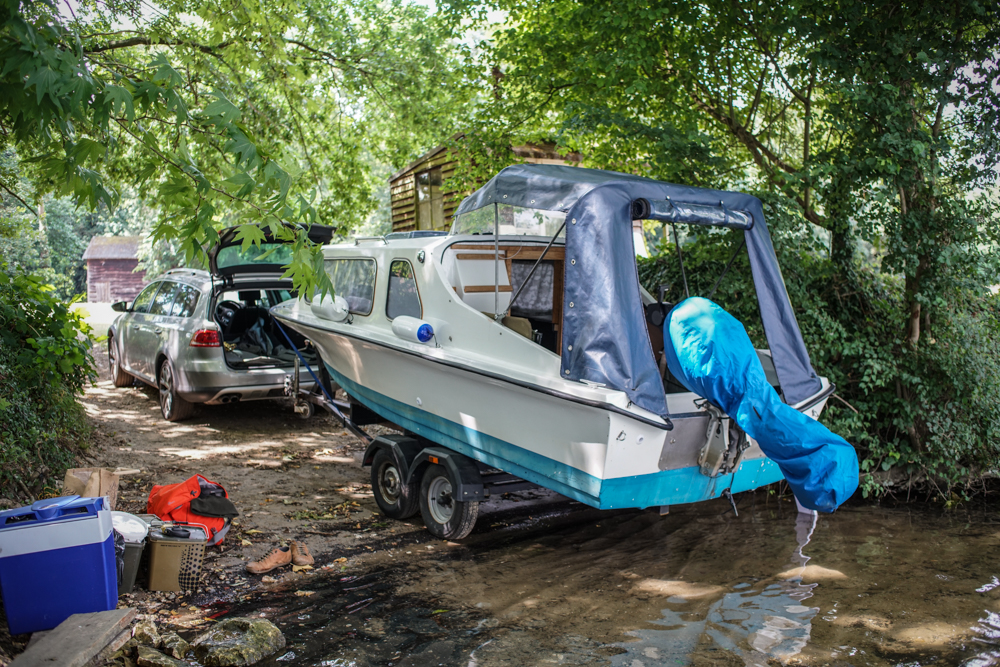 Learning how to launch and recover a bigger boat alone has been a challenge but all part of the mission.
Well, Friday mid morning I headed back and spent the day at the moorings beneath the shade of the giant plane trees on the bank. The heatwave continued and it seemed every day was up near 30 degrees. With the boat ready I shot off early evening and picked up my daughter who was super excited to be going off 'camping'. As I'd baited the spot where I'd been cut off I headed back there for the night as it was quiet, the dog could run free and we could enjoy a bbq and chill out. It was dark by the time I got the rods out and little'un was happy in the cabin on her iPad.
Apart from a chub around midnight the rest of the night passed uneventfully and I was up at first light to witness the most amazing misty dawn so I made coffee and took lots of pictures, I even sent up the drone for the first time and got some practice in while Hun and Bert slept on. A couple of hours later little miss trouble had stirred so I made more coffee and some toast and was sat in the cabin stirring my mug when out of the blue one of the rods screamed off, a truly savage take that caught me totally by surprise. Having suffered a cut off id swapped my reels over to some spooled with 20lb mono as I didn't want to take any chances and good job I had as the powerful fish soon had me snagged in a bed of thick cabbage. The fish powered off several times, flat rodding me and grating each time. I'd just started to think that maybe I wasn't going to get to see the culprit when all of a sudden the line freed and a big branch rose slowly to the surface and I caught a glimpse of a long line of linear scales behind the branch.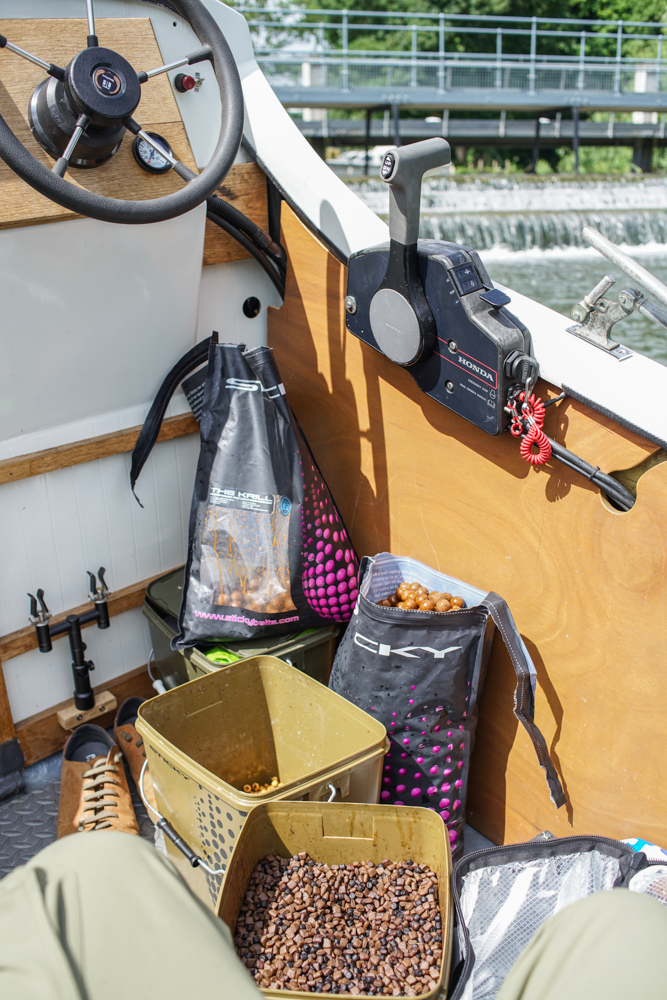 Baiting, done right!
Several more heart stopping lunges and all of a sudden the line was free of the branch and I quickly scooped up the surprised mirror – what a relief, and what a result. With my first Thames carp of the year in the net life felt very good indeed as it does when something that doesn't come easy finally comes good. Victorious, I packed up the rods and was about to do some pics and head off home to enjoy the rest of the weekend when out of the corner of my eye I saw something roll on the spot. Whatever it was didn't look big but I decided to put one rod back out while I set about getting some pics. Would you believe it, the rod hadn't been in the water five minutes when another savage take nearly pulled the rod off the boat and I dived through the cabin door and just managed to grab the rod butt as it took off. It was clear this time around that this fish was much more powerful and I'm guessing it was a good fifteen minutes before it finally went into the net much to my relief, what a result, and what a brace of magical scaly River Thames mirrors on opening week, the considerable effort, the hundreds of hours spent working on the boat when I should have been fishing, the hours, the driving, the baiting, the disappointment, the frustration and the anxiety all disappeared in an instant.
Make no mistake, id earned those carp and then some, but more importantly I'd caught them by design, on my own terms and the feeling was hard to put into words. Hun did me proud with some pics and after getting the fish back I savoured the moment before getting busy and baiting the spot heavily with a whole bucket of chili and salted peanuts and a bucket of Krill boilies soaked in liquid Krill, not to mention a good few scoops of ellipse pellets. I'd be back the following week to see if I could attract any more rare Thames gems to the spot.
Be lucky,
Nick
Comments