On arrival at the lake I spent a couple of hours deliberating on my choice of swim. The central area of the lake was pretty well occupied so I had the choice of either end of the lake. I looked at both ends of the lake but saw nothing. I therefore decided to make the half mile walk back to the windward end of the lake and look hard. I saw one fish show, but the wind felt very cold and I couldn't decide which swim to settle on over that area of water.
I felt that I should be seeing more so made the half mile walk back to the other end of the lake. There was no pressure at that end and I then clocked what looked like a show out of the corner of my eye. I wandered further up the bank and saw 3 shows off the back of the wind, all definitely different fish. That was enough for me so I walked the half mile back to car and set off round the lake.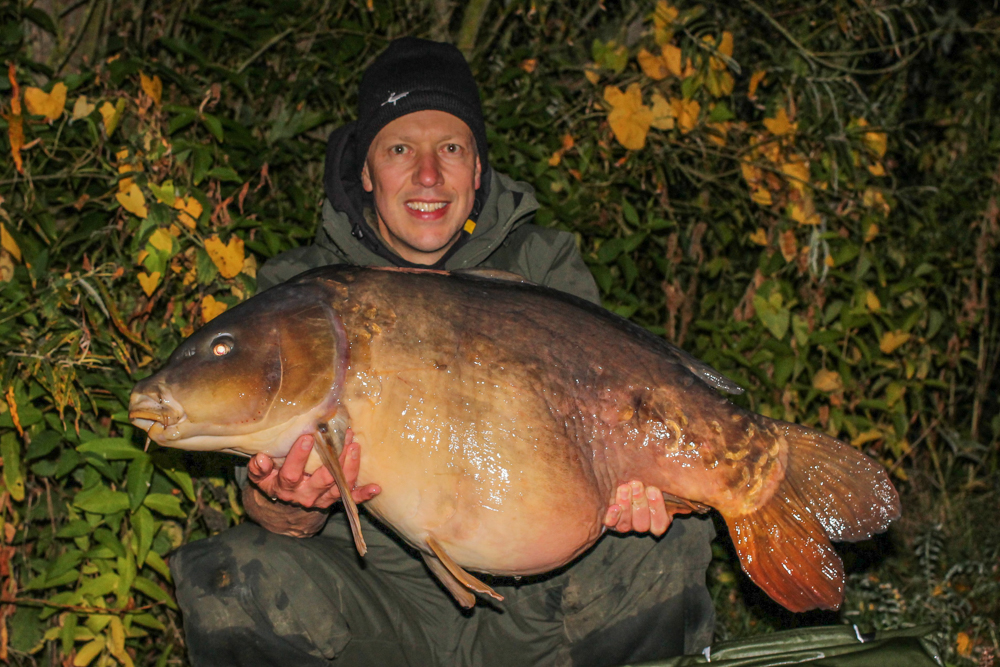 This colossal 42lb 12oz mirror looked every bit its size int he folds of my net in the dark.
I have spodded bait onto showing fish on this waster before and it hasn't worked so I opted to fish 3-bait stringers to where I had seen fish. It was dark when I cast in and once set up the lake came alive with lots of fish showing. After 2 hours without a bleep I was convinced that the fish were feeding in the upper layers. I wound one rod in to switch over to a zig rig, and then remembered that I had taken my fine line and small hooks out of my tackle box! Oh well, 15lb mainline and a size 8 hook it was.
I put a zig out at two thirds depth and waited with anticipation. After an hour, the left hand rod burst into life, which was on a bottom bait and a 3-bait stringer. After a spirited battle, I landed a mid double common. After receiving a bite on the bottom, I decided to take the zig off and put a bottom bait back on for the night. After casting in I put a handful of Cell around each rod.
This proved to be a wise move as at midnight the recast rod tore off. This fish definitely felt better and after a decent battle, a silhouette of a thick set of shoulders broke the surface. I gently coaxed it into the net and glanced at what was clearly a very good fish, very deep and very wide. On lifting it to the bank in the sling, it felt heavier than I imagined. Could it be? I hoisted it on the scales and they registered 42lb 12oz – I couldn't believe it. I secured it into the retainer whilst I set up my camera gear and then fired off some self takes.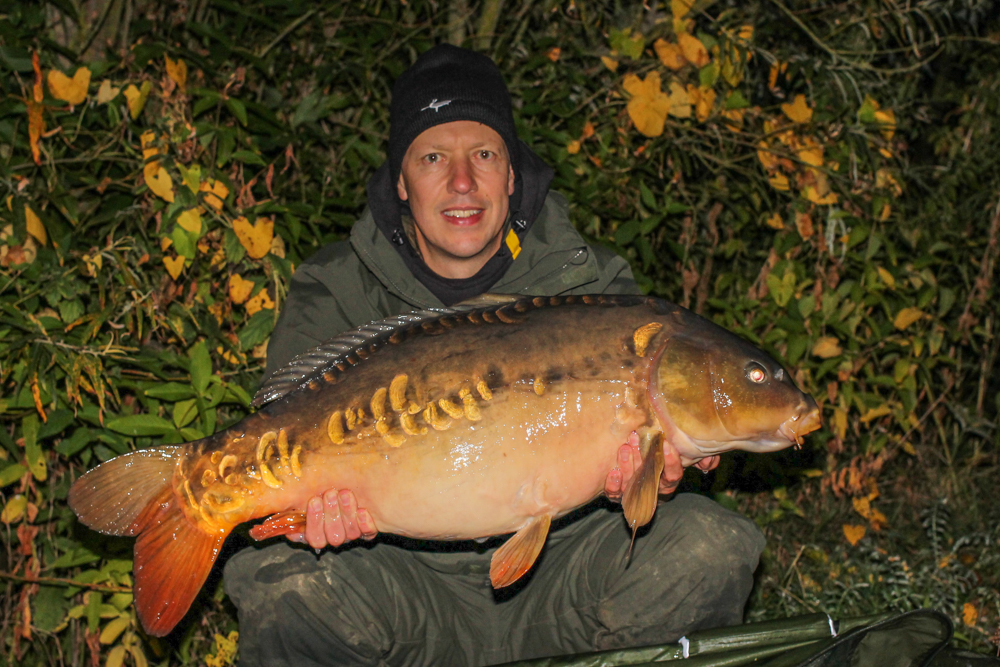 A lovely 26lb scaly mirror.
After the fish, I decided to clip all three rods up to the same range and fish them in a line. A few handfuls of Cell followed and I retired back to bed. At around 3am, the left hand rod sprung into action. This fish turned out to be a beautiful mirror weighing in at 26lb 12oz. Just as I was setting up the camera gear, the middle rod tore off again. This fish went on a long steady run and then plodded around in the margin. It felt better than the last fish and my instincts were confirmed when a large common of 34lb 8oz rolled into the net. I photographed both fish, recast and re-baited, then retired to bed shattered.
I woke as the sun was rising and was reflecting on a great night where I had landed a double, a mid twenty, a mid thirty and a forty, with a few teas', as the sun rose in the sky. I spotted two shows out to my left so wound in the left hand rod and sent it out there with a 3-bait stringer. About 20 minutes later, that rod sprung into life. The fish didn't seem huge and was soon charging up and down the margin. As I was trying to get it to the net, the middle rod ripped off. At this point the fish I was playing really didn't want to get in the net. Eventually I managed to net it and was able to pick up the other rod. Thankfully the fish was still on and it felt better than the last one. After a short battle another golden common went into my second net. I weighed both fish, the first was 18lb and the second was 26lb.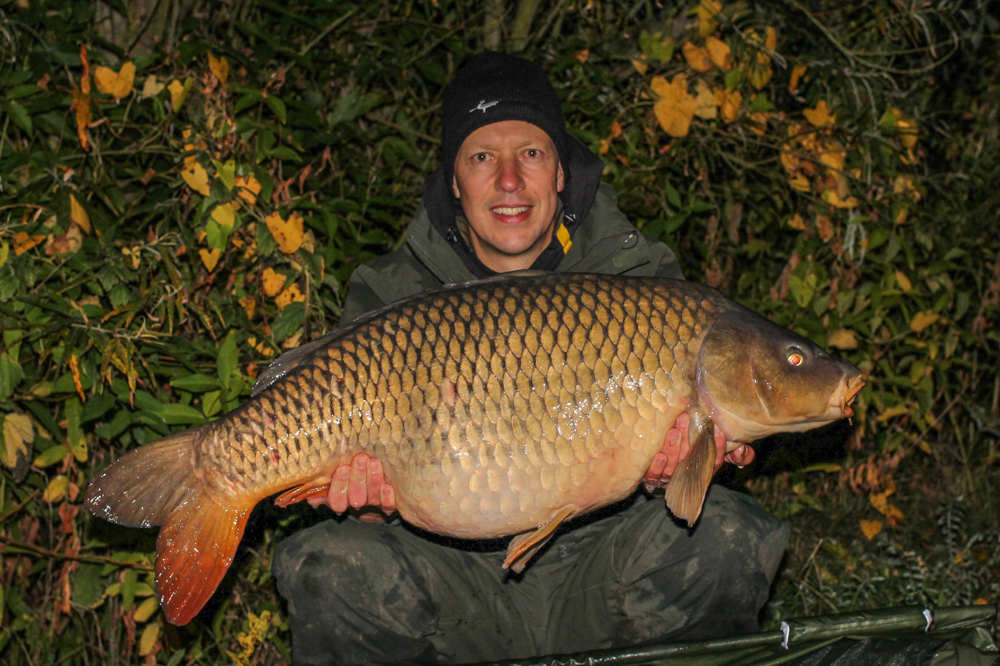 This 34lb common was a very welcome visitor.
The rest of the day was quiet but I made sure to get the rods back in the main bite area by 5pm. Just as dark was falling I saw a couple of fish show at range to my right. I decided to cast a spomb of boilies at the fish and then clip the spomb to the mark. I then wrapped up the spomb rod, wound in the right hand rod and wrapped this up to the same distance and sent it out there.
I was tired after the previous night so was asleep by 9pm. Disappointingly I had not seen any shows into dark so there weren't the numbers of fish around that there had been the night before. I woke to motionless bobbins as the sun started to rise over the trees. I had just made my first brew of the morning when the middle rod tightened up out of the blue, pulled out of the clip and was away. By the way this fish was charging about, it was clearly a small one, and a short while later I netted a common of about 10lb.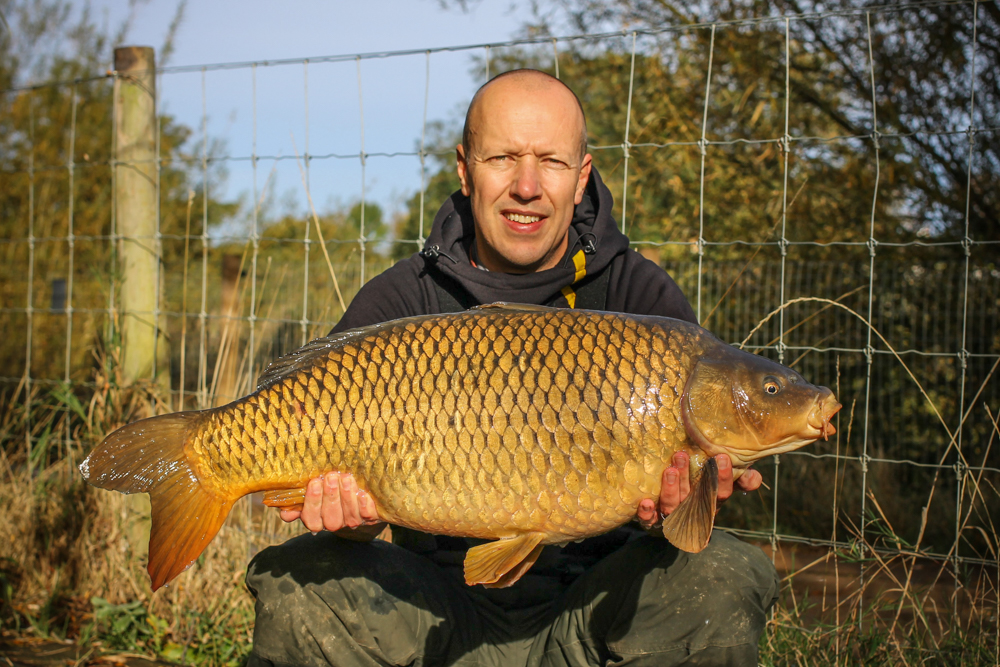 A cracking day time bite resulted in this 26lb common.
The morning was very quite in terms of fish activity, but at mid morning, I caught sight of a decent fish 'head and shoulder' to my right. I wasted no time in casting a 3-bait stringer to the area, and was rewarded 10 minutes later when that rod signalled a bite. This turned out to be a common of around 15lb.
That turned out to be my last action of the trip, but what a trip it had been. I had blanked on my last three trips, but this trip had made up for all of that. I had landed 4 doubles, two mid twenties, a mid thirty and a 42lber. I was really made up with this, particularly as I had achieved the result fishing away from the pressure at the other end of the lake.
Comments