There are stretches of canal the length and breadth of the country, the Peaky Blinders controlled them, they have an amazing history and utilised horse-drawn power but today they are often overlooked as places to fish. They have their own uniqueness, dangers, joys and reasons for being often devoid of anglers, but ignore them at your peril. Jonny Chadwick has certainly got an affinity for them, or at least when his chosen waters are busy…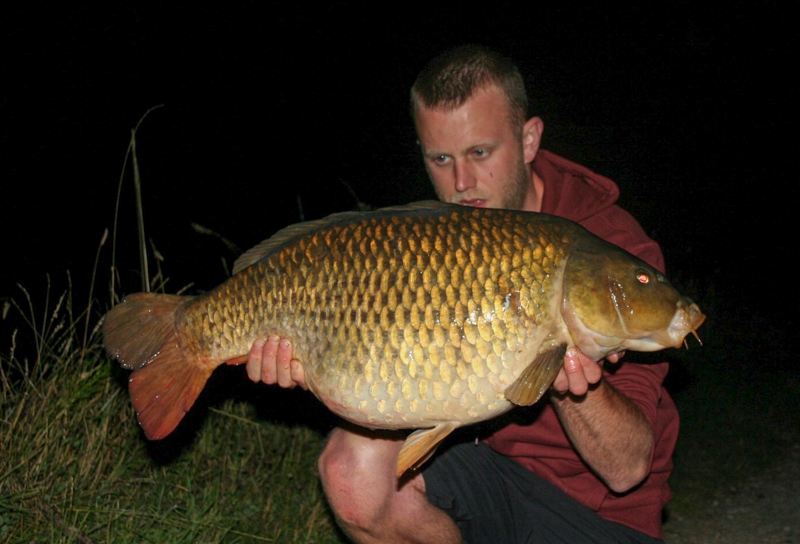 A night-time capture of this large-framed common made the efforts worthwhile that session.
"The canal that I fish can be very hit and miss, as can most. Location is paramount in carp fishing in general, but on the canal it is absolutely key. I'm talking about a real canal, not a non-navigable canal that is only a mile or so long. The carp are very nomadic, even in the depths of winter they still move around a lot and if they wanted to they could travel for miles and miles before they hit an obstacle such as lock gates, even then they could pass through with the boats if they wanted to and basically have the ability to travel the country.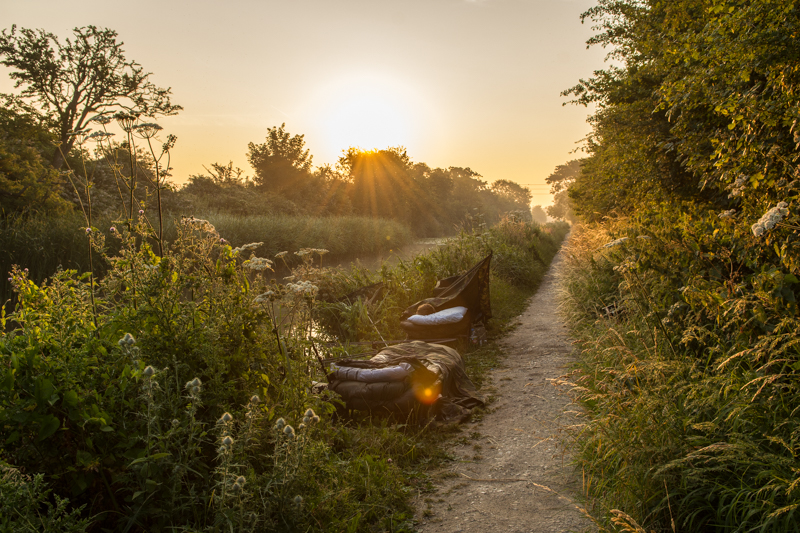 Travelling light and doign short sessions, arriving just before dusk and leaving just after dawn meant boat traffic was minimal.
"They do, undoubtedly, have their favoured few areas where they live and are comfortable being for long periods, generally they are 'safe' areas with plenty of cover, features and food – private marinas, as opposed to straight cuts with no moored boats etc. They seem to be like underwater highways, no stopping, just travelling from one marina to the next.
"At my locaI canal I tend to focus my attention between three marinas' all within roughly a mile-long stretch. This means I usually only fish three different spots, all on the towpath opposite the entrance to these marinas'. They're only as wide as a narrow boat itself, but inside it's a different world. A maze of moored up boats providing shelter, warmth and food. Why would they want to be anywhere else? If you're lucky enough you can get a shot at catching them, as most mornings, before the first boat goes through, they come out of hiding for a bit of a mooch and perhaps a swap of marinas'.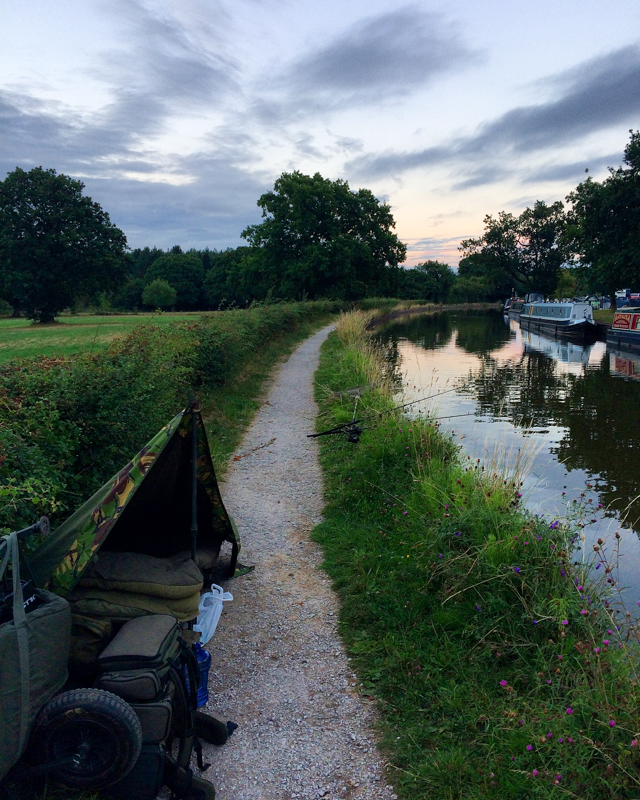 Just two rods and a Tactical Carp Tarp, the fishing is simple.
"I only ever use two rods on the canal and as there is only one way in and one way out I have them both cast to the edges of either side at the entrance. Fishing on the towpath comes with its problems, firstly, there's hardly any room between you and your rods and the public obviously don't like this, especially cyclists. Secondly, there is constant boat traffic going past, meaning it's essential to have your rods at a right angle to the rig is a must, as is using backleads. I tend to only fish the nights on the canal now, generally an hour before dark until an hour after first light, as the boats really are unbearable and it's not much fun staring at a 20 yard wide stretch of water with cyclists, mums with prams, dog walkers and the general public squeezing between you and your rods every five minutes, huffing and puffing as they do.
"I first got interested in the canal a few year ago and in that period of time I have probably done just 10 nights, catching eight carp, three in just one morning, and on another session I landed two. When they're on you, you know about it, but like I said at the start, it can be very hit and miss as you could literally be miles from a single carp. They all vary in looks, sizes and strains and you just never know what your going to catch. It always seems to be a last resort for me to fish the canal, when lakes are busy etc. but I don't know why as there is some good fishing to be had for free.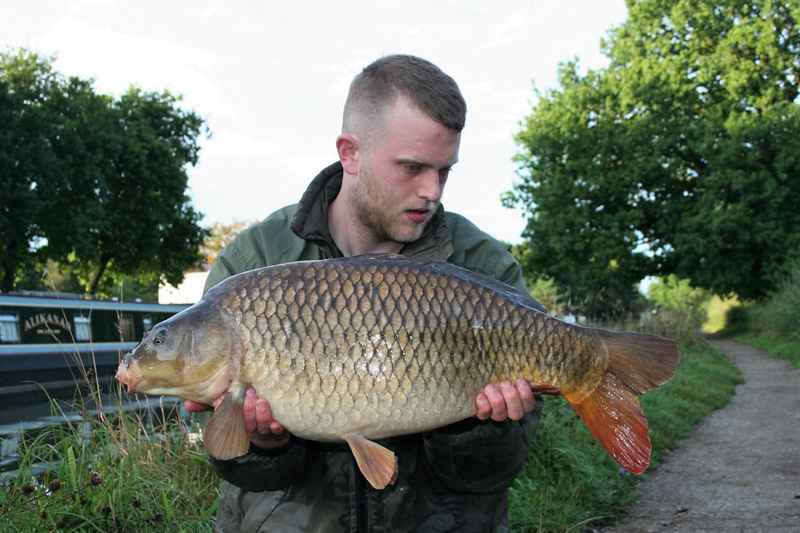 One of a three-fish hit, a lovely upper double common.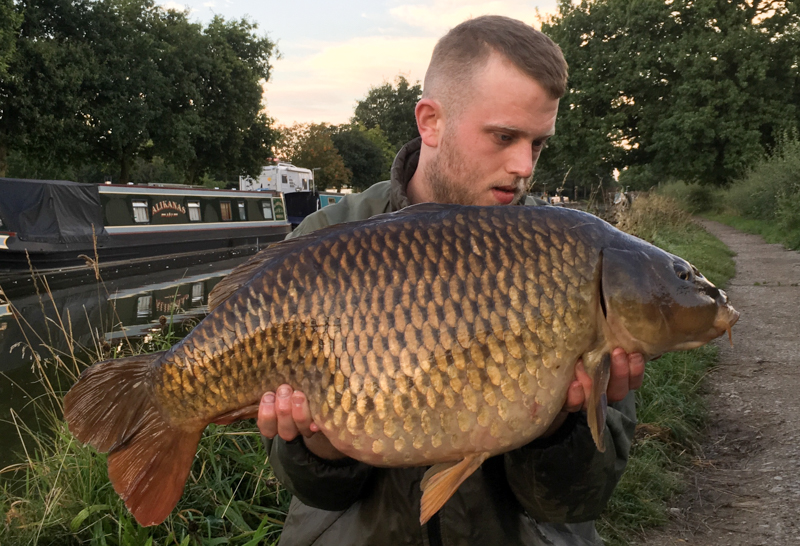 This low twenty common was pristine too.
"One session back in August 2016 is definitely my best to date, landing three common carp all in a hectic morning, with two of them being the biggest two known commons in the stretch. I literally couldn't keep a rod in the water for a short half hour period. Landing commons of 18lb, 21lb and 24lb 14oz. The smaller two being absolutely mint, bronze commons, just like lake fish. The biggest being a paler shade and a completely different shape, with a really big gut on it and irregular scales, a true survivor.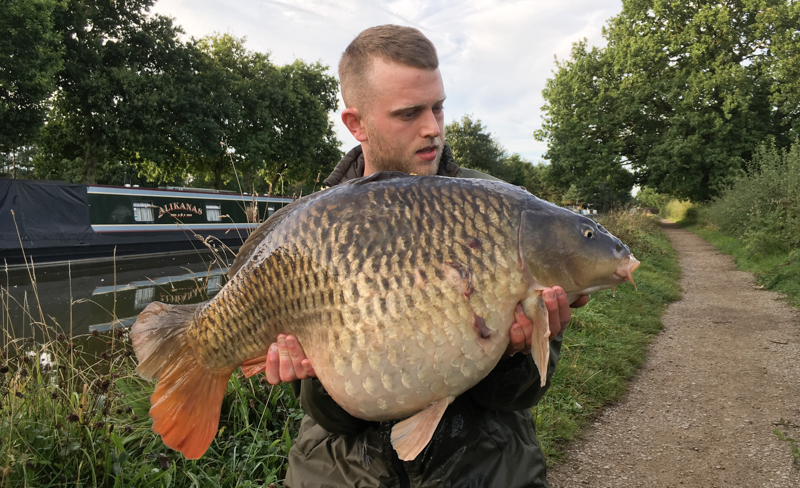 A characterful 24lb 14oz common was the third of the three-fish hit that sesssion – what a result.
"Fishing to the entrance of a marina, they just kept coming out for more. Then the first boat went past and that was that, bite time over. A few days after my successful morning on the canal, my brother Drew came home for a few days from his house in Grantham where he works. Eager to wet a line as he hadn't for a while, I put him onto the canal as I felt sure that, that particular marina would still be stuffed with carp. He went down and in true style, caught the biggest known mirror in the stretch, a real humpback character at 25lb, not massive by todays standards but they really don't have to be when they're from the canal.
"Within a week we felt like between us, we had now had the best of it. There are still many characters to catch though and different fish are always coming and going, I recall another great morning me and my brother had on the canal two years ago wen we both landed two carp each. Drew caught a lovely brace of mirrors, one being a long, scattered linear scaled mirror and the other being a deeper, rounder shape with hardly any scales. I landed a cracking fully scaled mirror and a small character common with a kinked back and red cheeks. Four beautiful carp each one unique and very different. We were about 300 yards apart, fishing the entrances to two different marina's. The fish really must've been on the move that day, then just as quickly as they turned up, they disappeared, as I fished again in the same spot a couple of times over the next few week and didn't have a thing – typical of the canal.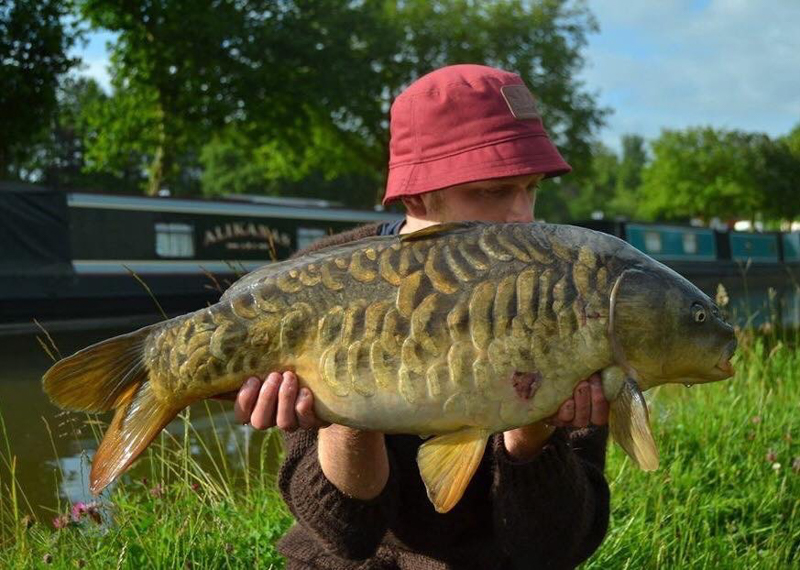 You never know what you've hooked until it's in your net, like this lovely fully.
"There is another area I like to target that is almost a mile from the two adjacent marinas. It consists of a wide canal that is essentially a marina, with private moorings on the far side that face the towpath, so you can cast baits right up between rows of narrow boats. There is also a big, shallow area here that branches off the canal, where the carp like to spawn every year. I have caught carp from there in the Spring, just as they start to group up. I stalked a mint little mirror on a little krill dumbell wafter from under a bush on the far side of the area once, it is pretty much like fishing a small lake. As there are no boats moored up here because it is only about 2ft deep, it is probably three acres in size. The wide moorings are just the other side of a road bridge, an area where I believe the majority of carp in the canal spend the winter.
"It's a strange place the canal, with plenty of strange people knocking about most likely with bad intentions, people walking home from the pub using the towpath as a shortcut home can be problematic too. If they don't stop for a chat, which they usually do, then they have a tendency to walk straight into your rods sending them flying. I've bumped into my fair share of characters on the towpaths and I have found some strange things. One time, me and my mate Dave were out spinning for perch in the winter when an obstacle came drifting into view on the surface of the water. I told Dave to cast over it to try and hook it and bring it in, a couple of casts later and he was winching in a large metal tin with a pirates of the Caribbean sticker on the front.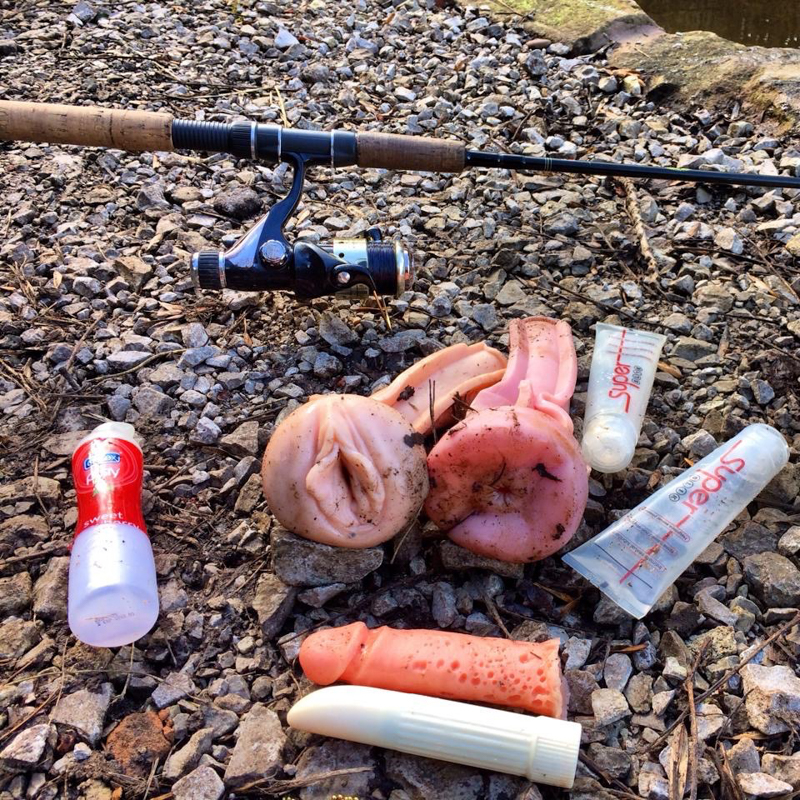 Not the treasure we had hoped for when we 'hooked' into this box...
"Thinking we may have found some treasure or something of value I popped the lid off and upturned the contents on the path. To our horror there was a collection of perverted sexy toys inside. Dildos, latex vaginas, penis's, even a latex bumhole – complete with lubricant. Someone had been getting freaky down at the canal or maybe someone local had tried to get rid of their stash, who knows, either way it ended up in our swim that day.
"The canal certainly isn't for the faint hearted and I never fish on my own down there, however, if you can endure and overcome some minor difficulties, there is some good fishing to be had that certainly outweighs the bad. Carp that have no names, but a thousand stories to tell and you just never know what it's going to be when that alarm sounds.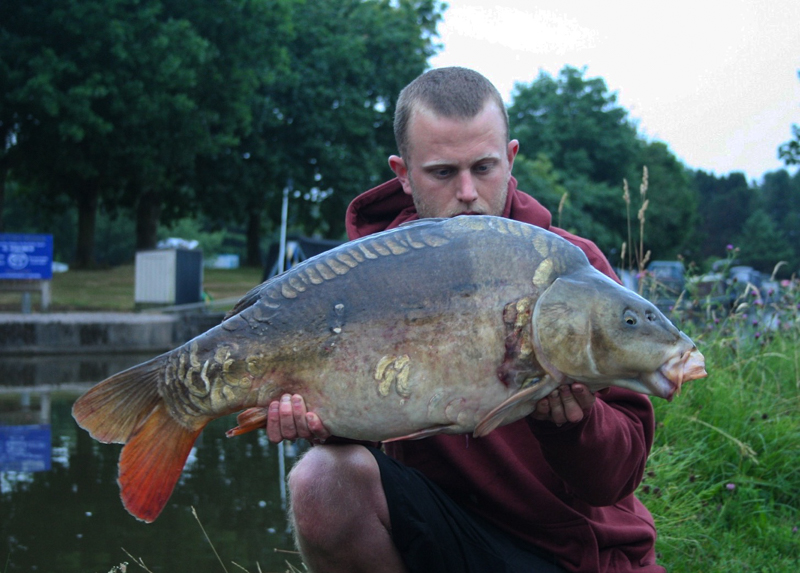 The largest known mirror in the stretch, a capture a short while after my brother banked it.
"Shortly after wirintg this feature I went on to catch the very same mirror as my brother, what we believe is the biggest in the stretch, so that rounded things off beautifully, well, for now anyway."
Kit Check
If you're thinking of venturing out to explore your local canal and what resides in there, you won't go far wrong from following the advice above. If you're looking at what kit we recommed for canal fishing, please see the image below, links underneath for further information...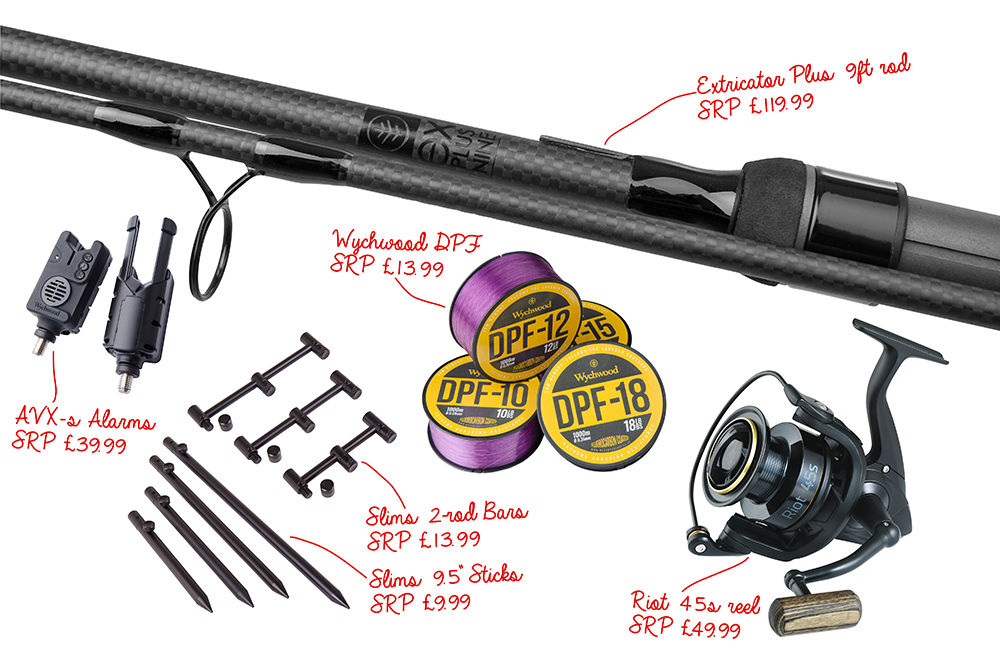 Extricator Plus 9ft here
Riot 45S here
DPF Line here
Slims buzz bars here
Slims banksticks here
AVX-s here
Comments